Last season was the first time in Eddie Royal's eight-year NFL career that the veteran receiver failed to play at least 10 games.
"It was just one of those years, you know, injury after injury," Royal said Wednesday at Halas Hall. "I wanted to be out there so bad to help our team because I knew what I could bring to the table and I wasn't able to do that every week."
After playing in 31 of 32 games the previous two seasons with the Chargers, Royal was limited to nine contests in his first year with the Bears due to injuries to his hip, ankle and knee, catching 37 passes for 238 yards and one touchdown.
A year later, he's eager to make a bigger impact.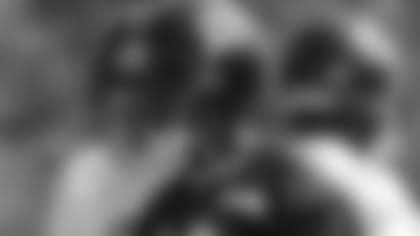 Veteran receiver Eddie Royal hopes to play an integral role on a revamped Bears offense this season.


"I'm just excited to start a new year," Royal said. "We've got a great group of guys. We're all getting more familiar with one another and it's really starting to feel like a family."
Despite working with a new offensive coordinator (Dowell Loggains), new position coach (Curtis Johnson) and several new teammates, Royal feels that the Bears offense has already developed some camaraderie during the offseason program.
"It's kind of weird because it feels like we've been around each other for a while," he said. "There are some new faces, but we're all gelling pretty quickly. Like I said, that family atmosphere that you want to build as a team, I feel like we already have it."
Much of that stems from Loggains, who was elevated from quarterbacks coach to coordinator in January after Adam Gase left the Bears to become Dolphins head coach.
"He's got a great personality," Royal said. "Meetings are always fun. He's always cracking jokes. But at the same time, we're serious into all the little details and everything matters with him—all the little things—and those are going to turn into big plays for us.
"It's going to be a fun year. We're attacking the defense and making plays out there, and everybody's having fun. So it's been good so far."
Royal feels that the offense under Loggains is still evolving.
"You kind of start to see what type of offense he's going to run and what type of scheme he has in store for us, but I really think it's up to the players," Royal said. "We kind of decide what the offense is going to be based on what we do well, so we've got to get out here and show we can run every route that he wants to run and that we can do it well."
Royal has also enjoyed working with Johnson, Tulane's head coach the past four years who has 28 years of experience as a receivers coach at the NFL, college and high school levels.
"I love Curtis," Royal said. "He's one of those coaches that will make you laugh, but he's hard on you at the same time. He's kind of like a fatherly coach; he's going to bust your butt and be on you every single play to make sure you're doing the right thing, but at the same time he'll pat you on the back when you're doing something well to let you know he loves you and he cares about you."
Royal has been impressed with what he's seen from fellow receiver Kevin White, a 2015 first-round draft pick who missed his entire rookie season with a leg injury.
"Just seeing how big and fast and strong he is, I think he can make a lot of big plays for us," Royal said. "If I was calling the plays, I'd definitely use him."
Royal, of course, also wants to play a significant role, and intends to do just that after following his regular offseason training regimen.
"You always come into the year with a lot of confidence. I do," he said. "I know the type of player that I am and I know what I can do. I didn't do anything any different [to prevent injuries]. Sometimes injuries happen and it's the bad part of the game that you hate dealing with. I just busted my butt in the offseason to make sure that I'm ready to go this year."