It's unclear whether Kevin White's injury means that Eddie Royal will get more reps as an outside receiver than in the slot. What is certain is that Royal prides himself on being able to do both.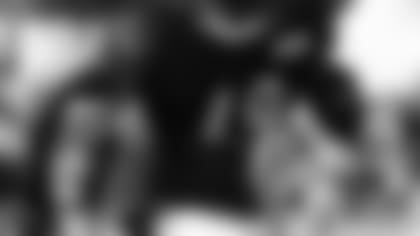 Eddie Royal during practice.
"I think every receiver should take a lot of pride in being able to do everything," Royal said. "You don't want to be a one-trick pony. I've worked on that my whole career."
Royal was primarily an outside receiver as a rookie with the Broncos in 2008 when he teamed with quarterback Jay Cutler and caught 91 passes for 980 yards and five touchdowns.
Royal honed his skills as a slot receiver the past three seasons with the Chargers, increasing his production from 23 receptions for 234 yards in 2012 to 47-631 in 2013 to 62-778 in 2014.
Asked what he learned in San Diego, Royal said: "How to run routes, really, inside of the slot, because it's a lot of body language. It's a lot of tempo, speeding up and slowing down and quick cuts and just learning how to do that; keep the DB off balance.
"There were a lot of little things I thought I knew, but I didn't realize I didn't until I actually got in there and did it. So just getting that experience has been good."
When the Bears selected White with the seventh overall pick in this year's draft, many predicted that the rookie would start opposite Alshon Jeffery and Royal would line up in the slot. But the Bears announced Saturday that White needs surgery to stabilize a stress fracture in his shin that he suffered during OTAs and will miss at least the first six games of the season.
Royal isn't sure how that development will affect his role, but the eight-year veteran is making sure that he'll be prepared to do whatever he's asked.
"I've been trying to learn the whole system just so if anything happens that I'll be able to step in and play wherever," he said. "We've got a number of guys that are doing that just because you never know during the course of a season which guys are going to be up and which ones are going to be down, so a lot of us are preparing to play anywhere."
White's absence will no doubt provide more opportunities for his fellow receivers to shine. But given that he didn't participate in any training camp practices, that was already happening.
"I don't know how much it changes anything with the guys in the room because we've all been busting our butts, working as hard as we can and preparing like we're the starters," Royal said. "I think that's the attitude of everybody, even the undrafted free agents. They've been working as hard as they can and whoever gets the call to go out there and play, they're going to give it their all."
Royal has offered his support to White, who had high expectations for his rookie season.
"You just try to talk to him and let him know that we all know that he wants to be out there," Royal said. "You can just tell that it hurts him not being out there with us, just standing on the sideline. Even in meetings, he's so anxious to get out there and play.
"I know the feeling. We've all gone through injuries and it just sucks for him that it's so early in his career. But I'm sure that he'll bounce back from it."