The following is the second of eight position previews in advance of the May 8-10 NFL Draft:*
Most NFL analysts don't expect a running back to be selected in the first round of this year's draft, but that doesn't mean there aren't any quality ballcarriers available.
Ohio State's Carlos Hyde, Washington's Bishop Sankey, Auburn's Tre Mason and LSU's Jeremy Hill are among those with NFL feature back potential.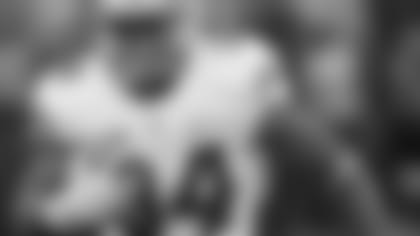 Carlos Hyde
Hyde was a four-year contributor with the Buckeyes who emerged as a star last season as a senior, rushing for 1,521 yards and 15 touchdowns in 11 games. The 6-foot, 230-pounder averaged 156.1 yards in Big Ten play and ended his career with nine straight 100-yard games.
In his 2014 NFL Draft Preview, Nolan Nawrocki writes that Hyde is very well built, possesses outstanding size, explosive power and run strength, and punishes linebackers running downhill. Nawrocki sees Hyde as a big, strong, powerful back ideally suited for the physical AFC North.
ESPN's Mel Kiper Jr. ranks Hyde as the top running back and 30th overall prospect, though the longtime draft guru doesn't think that Hyde or any other back will be selected in the first round.
Kiper's ESPN teammate, Todd McShay, and all eight analysts with mock drafts on NFL.com also are among those predicting that no running backs will be chosen in the first round.
Sankey was an ultra-productive two-year starter at Washington, where he rushed for 1,439 yards and 16 touchdowns in 2012 before setting a school record with 1,870 yards and 20 TDs in 2013. Last season the 5-9½, 209-pounder rushed for an average of 143.8 yards, rushed for at least one TD in each game and caught 28 passes for 304 yards and one TD.
Nawrocki describes the Pac-12's rushing leader as an "instinctive, competitive and shifty low-to-the-ground hard runner" who "can be effective as a complementary zone runner capable of moving the chains and picking up chunk yards."
NFL Network analyst Mike Mayock ranks Sankey as the top running back in the draft, followed by Hyde, LSU's Hill, Auburn's Mason and Boston College's Andre Williams.
Mason rushed for 1,002 yards as a junior at Auburn in 2012 before having a breakout season in 2013. He was named SEC offensive player of the year after rushing for 1,816 yards and 23 touchdowns while also averaging 26.3 yards with one TD on 15 kickoff returns.
A Heisman Trophy finalist, Mason rushed for 304 yards and four TDs in a win over Missouri in the SEC Championship Game and then ran for 195 yards in a victory over Florida State in the BCS Championship Game, the most ever for a running back in the national title contest.
Nawrocki describes the 5-8½, 207-pounder as a "compactly built, nifty-footed runner with a balanced skill set to merit 20 touches per game at the next level" and reports that Mason "fits in multiple schemes and has the chops to make an impact as a rookie."
Hill is a third-year sophomore who excelled at LSU despite off-the-field issues. Last season he rushed for 1,401 yards and 16 touchdowns. His rushing total was the second most in school history and his 6.9-yard average set an SEC record, eclipsing Garrison Hearst's 6.8 in 1992.
Hill reportedly was arrested on sexual assault charges while in high school. He was arrested again and charged with simple battery after being involved in a bar fight at LSU. Nawrocki describes the 6-1, 233-pounder as a "big, thickly built, athletic slasher with an overinflated sense of his abilities and character red flags, which could cause some teams to shy away."