Bears safety Ryan Mundy has been named the 2014 winner of the "Good Guy" award presented by the Chicago chapter of the Professional Football Writers of America.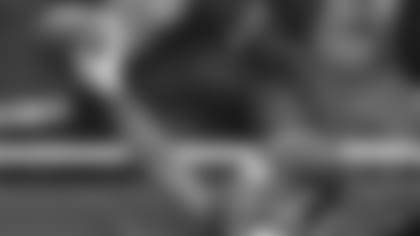 Safety Ryan Mundy celebrates after intercepting a pass Nov. 23 in a win over the Buccaneers.
Mundy, who signed with the Bears in March after spending his first six NFL seasons with the Steelers (2008-12) and Giants (2013), was given the award based on his professionalism, courtesy and respect.
"It's something I'm proud of," Mundy said. "Being there for the media is particularly important with the season we are having so we can help tell the story. If no one says anything, writers are left to write whatever they think is going on. The message can get distorted. I've tried to give perspective on where we are as a team. That was my role, one of my responsibilities I took on this year."
Mundy said that as a young player he learned about the importance of being professional with the media by watching former Steelers teammates Ryan Clark and Charlie Batch interact with reporters.
"I'm one of the older guys now, so I'm trying to set an example for some of the young guys on how to communicate and be respectful and mindful," he said.
Asked about the advice he gives his young teammates concerning social media, Mundy said: "Think seven times, tweet once. Don't think twice, don't think three times, think seven times and then tweet once.
"Social media is a very important component particularly in this day and age of the new age professional athlete, where everyone is trying to brand themselves and establish an identity off the field. I get that. And they have social causes and other things that they want to support.
"But it can get kind of messy on some social media, particularly with this new craze about fantasy football and everyone thinks that they're a general manager or a president or a coach or a coordinator. But you just have to be mindful. You have to take it with a grain of salt and not take it too serious."
The Bears honor Good Guy winners with a photo gallery in the media room. The inaugural winner of the award in 2013 was Josh McCown.