MOBILE, Ala. – Bears director of college scouting Mark Sadowski is ecstatic that John Fox and his entire staff are coaching the North squad this week at the Senior Bowl.
"It's always been a positive experience coming here year after year as an observer sitting in the stands, but with us having the opportunity to spend more time with these athletes, it's a huge, huge help," Sadowski said in an exclusive interview with ChicagoBears.com.
"We get a chance to meet with them. We get a chance to visit with them. We get to see how they interact with their teammates, how they interact with our coaches. All of that is very big when it comes time to make a decision to draft these guys."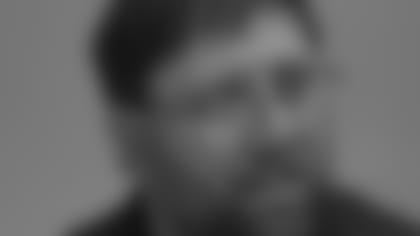 Bears director of college scouting Mark Sadowski joined the Bears in 2005 as a southeast area scout.


The Bears will coach the North team in practice Tuesday and Wednesday and then flip-flop with the Browns and work with the South team for one day in practice Thursday.
By the end of the week, Fox and his staff no doubt will have a good understanding of not only which traits some of this year's top draft prospects possess but what makes them tick off the field. The players will be evaluated on everything they do, from their performance on the field to the smallest detail, such as whether they bring a pen to take notes at a meeting.
"We're looking for dynamic playmakers," Sadowski said. "We want to get guys who are going to give us continued sustained success for the Bears. Obviously they wouldn't be here if they didn't have the physical attributes—size, athleticism, all that stuff. But we like going a little deeper.
"Do they love this? Are they passionate about this? Who's early for meetings? Who's late for meetings? All that stuff really comes into factor because there are a lot of great athletes out there, but to be a Chicago Bear you have to have all of those extra traits that we look for."
Sadowski grew up in Chicago and attended St. Rita High School. After eight years with the Saints, he joined the Bears in 2005 as a southeast area scout before being promoted to senior national scout in 2012 and director of college scouting in 2016.
Sadowski praised Senior Bowl director Phil Savage for assembling the best talent in the country. Of the 108 prospects who played in last year's Senior Bowl, 87 were drafted.
The Bears selected four Senior Bowl participants in last year's draft: Second-round offensive lineman Cody Whitehair, fourth-round linebacker Nick Kwiatkoski, fourth-round cornerback Deiondre' Hall and sixth-round safety DeAndre Houston-Carson.
Whitehair, as much as anyone, boosted his draft stock with his performance at the Senior Bowl.
"He stood out in several ways," Sadowski recalled. "Obviously he was here for his talent; he had a great career at Kansas State. What we noticed about him right off the bat was how serious he was, how business-like he was, how smart he was.
"The thing that stood out was the way he conducted himself day-in and day-out, during his interviews, on the practice field. And we gravitated toward those traits."