Saints offensive linemen who were coached by Aaron Kromer are convinced that their counterparts in Chicago will love playing for the new Bears offensive coordinator/offensive line coach.
"The Bears are getting a great coach in Aaron Kromer," said Saints center Brian de la Puente. "He's great in coaching different techniques, working with everybody on an individual level and working to their strengths. The Bears are lucky to have him. I know we're sad to see him leave."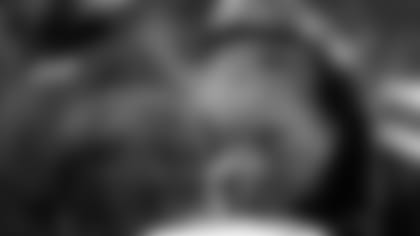 Aaron Kromer chats with Saints offensive tackle Zach Strief on the New Orleans sideline.
Marc Trestman hired Kromer Jan. 16, less than 24 hours after being named Bears head coach. An NFL assistant since 2001, Kromer spent the past five seasons with the Saints, coaching running backs in 2008 before working with the offensive line/running game from 2009-12.

"First and foremost the Bears are getting a coach who really understands offensive football and will bring a lot of knowledge and experience," said Saints tackle Zach Strief. "I also think they're getting a guy who relates incredibly well to his players and can get them to do things other coaches can't because of the respect level he will garner."

In Kromer's four seasons tutoring the offensive line, New Orleans sent five linemen to a combined nine Pro Bowls and tied for the fewest sacks allowed in the NFL with 96. The all-stars included tackles Jermon Bushrod (2012) and Jon Stinchcomb (2010), guards Jahri Evans (2010-13) and Carl Nicks (2011-12) and center Jonathan Goodwin (2010).

"[Kromer's] greatest strength is that he's very versatile and receptive to the players, and you want to play for a guy like that," De la Puente said. "Working alongside someone who is willing to help and put the work in is something you look for in a coach. As a player, you get lucky when you come across a coach like that. I'm very lucky to have gotten the opportunity to play for him and selfishly sad to see him leave."

This season the Saints ranked second in the NFL in total yards with 410.9 per game and third in scoring with 28.8 points. They also permitted only 26 sacks, tied for the third fewest in the league.

In 2011, the Saints set NFL records with 7,474 total yards (467.1 per game) and 5,347 passing yards (334.2) while ranking second in scoring (34.2 points) and tied for second with 24 sacks.

Strief feels that Kromer's greatest strength as a coach is the way he relates to his players.

"What guys will notice quickly is that he's a guy that gives professionals a lot of respect," Strief said. "The way that he relates with his players and communicates with them is unlike anybody I've been around. He will bring a family atmosphere to that room that will cultivate the types of relationships that you need on an offensive line."

De La Puente entered the NFL in 2008 as an undrafted free agent with the 49ers. After getting cut by San Francisco, he spent portions of his first three seasons with the Chiefs, Seahawks and Panthers before re-signing with the 49ers-all without ever appearing in a regular-season game.

After De La Puente joined the Saints in 2011, however, Kromer helped groom him into a starter. De La Puente has started 28 of 32 games played the last two years, including all 16 in 2012 when he was ranked New Orleans' top offensive lineman by Pro Football Focus.

"[Kromer] was very important in my success the last couple of years," De La Puente said. "Him believing in me and giving me the chance to play was huge in my career. I'm very thankful to coach Kromer for that opportunity. His ability to develop speaks volumes about his coaching."