Bears fourth-year pro Greg Scruggs woke up one morning in May as a defensive end and went to bed later that same day as a tight end.
The idea to switch positions was first presented to Scruggs when he was pulled out of the defensive line meeting room and summoned to defensive line coach Jay Rodgers' office.
"That's when they told me, 'We could use some help at the tight end position if you're willing to help, a bigger body guy who can block, a guy who can come off the ball and complement the guys we already have,'" Scruggs said. "I was more than willing to do it."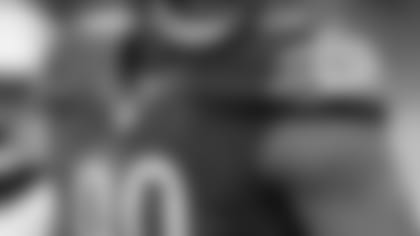 Greg Scruggs was moved from defensive end to tight end in May.


Even though Scruggs has been strictly a defensive end since entering the NFL in 2012 as a seventh-round draft pick with the Seahawks, he gladly accepted the challenge. The 6-3, 280-pounder practiced at his new position during the final week of OTAs and last month's minicamp and will head to training camp in two weeks to compete for a roster spot at tight end.
"It's been a challenge just trying to learn the different ins and outs of the offense and the way they operate and the way they do things," Scruggs said. "But I've always accepted challenges and most importantly I've always done what it took to help the team. I feel like that's what I'm doing ... so I'm good with that."
Scruggs appeared in 11 games with the Seahawks as a rookie in 2012, all as a reserve. He missed the entire 2013 season with a torn ACL, played in just three contests in 2014 and was waived prior to the 2015 campaign. He signed with the Bears last Dec. 30 and played in the season finale against the Lions, recording three tackles and one sack.
Although Scruggs has never caught a pass in an organized football game, he is confident about making the transition to tight end at the sport's highest level. He played some tight end at Louisville in spring ball and preseason camp and liked the position.
"It was fun," Scruggs said. "I remember liking to hit people. I played defense, so I remember that's what made me kind of halfway decent at it, was being able to come down and hit people, understanding what d-linemen are trying to do and what type of leverage they're trying to get.
"I think that's helped me a little bit here, but there are so many moving parts on the offense that I can't really even hone in on that yet. I'm just still trying to figure out if I'm supposed to go left or right."
Scruggs didn't play football until his senior year at St. Xavier High School in Cincinnati. Prior to that, he was on the school's basketball team and played drums in the band. Years later, Scruggs believes that those two endeavors will help him as an NFL tight end.
"As humble as I can be, I've always had good hands," Scruggs said. "I was a basketball player, so I had to have soft hands and good hand-eye coordination. I was a drummer before I played football, so I had good hand-eye coordination."
Being able to catch a football is one thing, but gaining the trust of a veteran quarterback such as Jay Cutler is another.
"It started with him learning my name," Scruggs said with a laugh. "That was a confidence builder. After that, it's just showing him at practice that I know where to be, when to be there, and that I'm running my routes at the right depth.
"I got a play [in a recent practice] where he looked to where I was supposed to be and we made eye contact because I was there. I think the more I can have those repetitions the more he'll start to let the ball fly and trust that I'll be where I'm supposed to be."
"I think as far as the run game is concerned, he's already built a lot of confidence because I've made an effort to really be aggressive and give them what they've asked of me, which is an aggressiveness off the line, running at people and attacking people.
Zach Miller has replaced Martellus Bennett as the Bears' starting tight end, but the competition for reserve roles is wide open, with Scruggs set to battle Khari Lee, Rob Housler, undrafted rookie Ben Braunecker and others.
"[Miller] is the No. 1 tight end, Khari has been here and Rob has been here," Scruggs said. "As the new guy on the block, I just kind of sit back in the shadows, learn, pick up, and when my number's called, I just make sure I'm ready."