Offensive linemen dominate Mel Kiper Jr.'s "big board," with the ESPN analyst ranking five linemen among the top 11 prospects in this week's NFL Draft, led by Texas A&M tackle Luke Joeckel at No. 1 and Central Michigan tackle Eric Fisher at No. 2.
Kiper ranks Florida defensive tackle Sharrif Floyd third, followed by Alabama cornerback Dee Milliner fourth and Oklahoma tackle Lane Johnson fifth.
Since 1968, only two offensive linemen have been selected No. 1 in the draft: Tackles Orlando Pace by the Rams in 1997 and Jake Long by the Dolphins in 2008.
Joeckel started all 13 games for Texas A&M each of the last three seasons. Last year the 6-6, 306-pounder won the Outland Trophy as the nation's best interior linemen while protecting the blindside of quarterback Johnny Manziel, the first freshman to win the Heisman Trophy.
"At his best, [he] has the ability to just swallow up all kinds of pass-rushers, particularly those who try to beat him off the edge," Kiper writes. "He can really drive people in the run game, even if he gets questions on whether he's a big finisher there."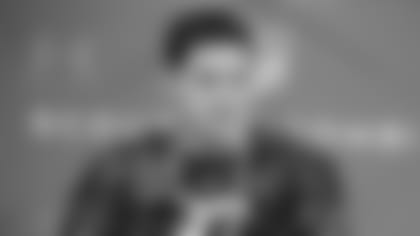 Offensive tackle Luke Joeckel addresses the media at the NFL Scouting Combine in February.

Fisher was a three-year starter and four-year contributor at Central Michigan whose draft stock was buoyed by strong performances at the Senior Bowl and NFL Combine.

"[He] uses his length really well," Kiper writes. "[He] gets in a wide base, uses his arms to absorb pass-rushers and simply doesn't allow guys to get the edge on him. He often made it look easy in the MAC but also looked great when Central Michigan faced top competition."

Smith addresses departure
Lovie Smith spoke publicly about his dismissal as Bears coach for the first time last week when he appeared as a guest analyst on ESPN's "NFL Live."

"It's tough, but you know, that is the NFL," Smith said. "You are disappointed. You mention 7-1. But it's hard to win in the NFL. And for us to finish 3-5 and finish up with a 10-6 season, it's hard to go 10-6. But my nine years in Chicago were great. [I] met a lot of great people. My family loved it. It was just time for them to go in a different direction, and I'm going to do the same."

Smith was also asked about quarterback Jay Cutler, who is entering the final year of his contract.

"You have to have that quarterback in place," Smith said. "And Chicago has that in Jay Cutler. And he'll do everything that you're looking for a special quarterback to do: great arm, mobile guy in the pocket. And as a quarterback, you want to get to your contract year like he has and play your best ball."

Under the lights
The Bears and Packers will meet for the 11th time on Monday Night Football this season when the fierce rivals collide Nov. 4 in Green Bay. The teams have split the first 10 meetings with the Bears winning the last two, both by scores of 20-17 in 2008 and 2010.

"When it's the Bears and the Packers, there are 100 great storylines going in and atop all of them are the people and the rivalry," said ESPN MNF play-by-play announcer Mike Tirico. "To be there for another chapter of it on Monday night will be fabulous. Hopefully it will be cold and those two teams will be where we expect them to be, battling each other in the NFC North."

In their only other MNF appearance in 2013, the Bears will host the Cowboys Dec. 9.

"I'm excited to see our Dallas game come later in the year and at Chicago," Tirico said. "You know one, and likely both, will be right in the thick of the playoff race in the NFC, either to win their divisions or for the wild card.

"To be in Chicago in December, which we've done a couple of times over our seven years, we know the Bears crowd is always good. For some reason, it's even better in the winter and when it's a big game. That will be a great night to see Tony Romo and the Cowboys come into Soldier Field."

Emrich honored
Pioneering Bears strength coach Clyde Emrich on Sunday was inducted into the National Fitness Hall of Fame. Emrich, the Bears' longest tenured employee, first started working with the organization in 1963 after meeting with George Halas to discuss isometric resistance training, a revolutionary concept at the time.

During a competitive weightlifting career that spanned 21 years, Emrich participated in the 1952 Olympic Games in Helsinki, Finland, finished third in the 1954 world championships in Vienna, Austria, finished second in the 1955 world championships in Munich, Germany, and won a gold medal at the 1959 Pan American Games in Chicago.
Emrich won four national titles and in 1957 became the world's first man under 200 pounds to clean and jerk 400 pounds. Unlike many of his competitors, Emrich never worked with a coach or trainer. He started lifting weights in 1946 as a 15-year-old who stood 5-foot-6 and weighed 110 pounds, training at home with homemade cans of sand and cement and cable-chest expanders.
Emrich is also a member of the USA Weightlifting Hall of Fame, the Illinois State Weightlifting Hall of Fame, the USA Strength Coach Hall of Fame and the Chicagoland Sports Hall of Fame.