Rookie tight end Adam Shaheen continued to impress at training camp Monday, catching two touchdown passes from Mark Sanchez in a five-play span late in practice.
Selected by the Bears in the second round of the draft out of Division II Ashland University, the 6-6, 270-pounder possesses an ideal combination of size and athleticism.
"He's a big target," said coach John Fox. "He's got good body control for a big man. I've liked what I've seen. We didn't get to see so much in the offseason obviously without pads. Even his point-of-attack blocking I've been impressed with. He's got soft hands and good body control. If he touches the ball, he's catching it."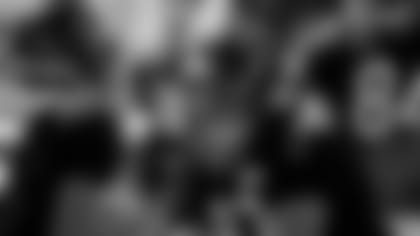 Bears tight end Adam Shaheen works on his blocking during a training camp practice.


Shaheen is a particularly enticing threat in the red zone, an ability he displayed at Ashland last season when he set a Division II record for touchdowns by a tight end with 16.
"He has size and ball skills," said tight ends coach Frank Smith. "It's like that kid in high school, that Division I kid who's 6-6 and everyone else is 5-10. I mean they stick out."
After watching Shaheen look like a man among boys on tape, Smith was impressed with the tight end's size and pass-catching ability when he saw him in person at his Pro Day.
"He looked big on tape, but then he was really big in person too," Smith said. "The thing that popped out was—like you are seeing in practice—his ability to track the ball and go get it. For a big guy, he's able to find the ball. You put it near him and he can go get it."
That's exactly the impression that Shaheen has made on starting quarterback Mike Glennon.
"He's a big target," Glennon said. "He's a big man running down the field fast. He does a great job of using his body. He has a tall frame which makes it easy for the quarterback to throw to."
Shaheen was the tallest and heaviest tight end at the NFL Combine. But he only weighed 195 pounds when he graduated from high school. He spent his freshman year in college playing basketball at Division II Pittsburgh-Johnstown before transferring to Ashland to play football as a sophomore. In his final season last year, he caught 70 passes for 803 yards and 10 touchdowns.
A talented pass receiver, Shaheen is working on honing his blocking skills in training camp.
"A lot of the techniques that come in blocking are kind of new to him, so he's just learning," Smith said. "You can see he's a player that once you explain something to him he grasps it very quickly.
"They didn't ask him to pass protect [at Ashland], which is part of the tight end skill set. Those are things that he doesn't have experience with coming out of Ashland as much as say running routes or run blocking. But he's done a great job so far. I'm excited with his progress up to this point."
Given Shaheen's work ethic and determination, the Bears are confident that the rookie tight end will continue to improve as he gains experience.
"He's a real tough kid," Fox said. "He's a very dogged worker. He's not afraid to work real hard. So whenever a guy can work real hard, they'll get better."