Adam Shaheen spent the past three seasons playing home football games in a stadium that seats 6,200 against opponents such as Mercyhurst, Northwood and Walsh.
After being selected by the Bears in the second round of the draft Friday night, the tight end from Division II Ashland University will be asked to face teams like the Green Bay Packers and Pittsburgh Steelers in front of 10 times as many fans. But the mammoth 6-6, 278-pounder expects to make a smooth transition.
"I think it's just how quickly I can adapt to this level," Shaheen said during a conference call with the Chicago media. "I think it's something I'm very capable of. The Bears feel that as well. I'm just excited to get to work and get grinding and show everybody what I can do."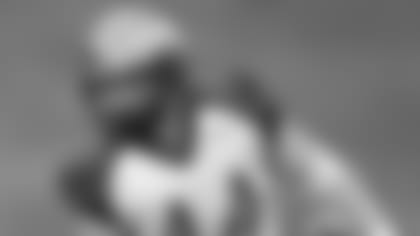 The Bears traded down nine spots in the second round to draft tight end Adam Shaheen at No. 45 overall.


The Bears traded down nine spots in the second round before taking Shaheen at No. 45. They also dealt a seventh-round pick to the Cardinals in exchange for the 45th choice and selections in the fourth and sixth rounds this year and the fourth round in 2018.
Shaheen looks like a man among boys in his highlight tape at Ashland, where he set a Division II single-season record last year for touchdown receptions for a tight end with 16 while catching 52 passes for 867 yards. In 2015, he had 70 receptions for 803 yards and 10 TDs.
Shaheen was the tallest and heaviest tight end at the NFL Combine. But he only weighed 195 pounds when he graduated from high school and spent his freshman year of college playing basketball at Division II Pittsburgh-Johnstown.
After his freshman year, he decided to transfer to Ashland University to play football.
"I just really missed football," Shaheen said. "I didn't have much opportunity to play football coming out of high school because I was so thin. But I had a bug in me after watching an Ohio State game and just made the switch after that year. And I'm very happy I did."
Gaining weight was a challenge for Shaheen, who told reporters at the NFL Combine that he bulked up in part by eating burritos from Chipotle.
"I played basketball that first year [of college], so I didn't really put on any weight," Shaheen said. "But then the weight followed the next couple years at Ashland and I was able to maintain my speed while gaining the size it was going to take to put myself in the position that I am tonight."
Shaheen's size and athleticism started drawing NFL scouts to Ashland last season.
"I have similar characteristics to these guys going in the NFL," Shaheen said, "so even though I was at the Division II level, I knew I'd be able to play and have an opportunity if I kept working at it and developing into a complete tight end."
Shaheen believes his greatest strengths in the red zone are his physicality and ability to go up and get the ball, traits he relied on with regularity at Ashland.
"I know there's a knock on Division II football, but one thing they don't account for is they don't call pass interference in Division II, so people were just mugging me left and right," he said. "That's something we had to deal with, something where I was very physical back with them."
Shaheen has been described as a pass-catching tight end in a blocking tight end's body. But he wants to show the Bears that can he excel in both aspects of the game.
"I just wanted to come in this draft and show that I could do both," Shaheen said. "I was asked a lot more in college to catch the ball and I was very successful at that. But I also did a lot of blocking. We ran a lot of power and off-tackle stuff. So I was in there blocking as well. That's what I love to do as well. Right now I think the tape will show that I have pretty good hands. But I want to be a complete guy that's going to do it all."