Tight end Adam Shaheen's extraordinary combination of size and athleticism that jumps off his college tape was also evident Friday at Halas Hall.
The 6-6, 278-pounder, who often looked like a man among boys at Division II Ashland University, also stood out during the first practice of Bears rookie minicamp.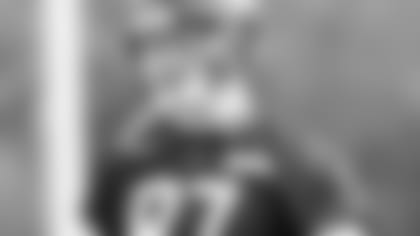 Bears second-round pick Adam Shaheen's size and athleticism stood out during the first practice of rookie minicamp.


"The whole level of competition is something you look at and evaluate in our league," said coach John Fox. "But with Adam I saw the same thing here today, still the size and the quickness and the length that he has regardless of what school he played at. You know that transfers here and I thought it did today."
Selected by the Bears in the second round of the draft, Shaheen started his college career as a basketball player at Division II Pittsburgh-Johnstown before transferring to Ashland a year later to play football. He emerged in 2015, catching 70 passes for 803 yards and 10 touchdowns, and then followed with 57 receptions for 867 yards and 16 TDs last year.
"Adam's going to be a great player," said quarterback Mitch Trubisky, the Bears' first-round draft pick. "It's really cool to throw to him. You can tell he loves being out here as well. I've never thrown to a guy that big. He has huge range to catch the ball, so it makes it a lot easier for me."
Offensive coordinator Dowell Loggains is eager to see where Shaheen fits in a suddenly-crowded tight end room.
"I really want to get a good feel for what he is and what he can do," Loggains said. "I am excited about our tight end group. The addition of Dion Sims, he's been awesome this offseason. Getting Zach [Miller] back and Daniel Brown and [Ben] Braunecker and now Adam and adding those different pieces, we need to figure out what each guy can do and then put them in those situations to do that."
No issues: The Bears are not concerned about their quarterback of the future, Trubisky, working with their quarterback of the present, veteran Mike Glennon.
"In this league you're not one deep," Fox said. "There's a group of people at every position. There's competition and there's camaraderie. There's brotherhood, teamwork, all those things. Everybody makes each other better. So I don't look at it to be any different at that position than any other position.
"I don't think we're doing anything new and different here. I think everybody in the league has a backup and third quarterback. I don't know that it's a new concept. I'd rather not make a big deal out of something I don't think's a big deal."
Trubisky, who arrived at Halas Hall Thursday afternoon for minicamp, said that he has been texting back and forth with Glennon, but the two have yet to meet in person.
"I'm looking forward to meeting him," Trubisky said. "But I've been talking to him, and he says it's a great time to be in because we're all learning the playbook together. [The team's veteran quarterbacks] are anxious to get out there with me and just go to work."
Versatile performer: Speaking to the media for the first time since the Bears signed Glennon March 10, Loggains explained what appealed to him about the veteran quarterback.
"I liked him in college," Loggains said. "Then he had NFL tape, so you got to watch and see, like, 'Hey, this guy is a starting quarterback in the NFL.'
"He's extremely intelligent. His size helps him a lot because he can see everything. He's really good in three-step. He can play under center. He can run all the play-action passes stuff. For a guy as long as he is, his movement skills are sneaky. He can do all the nakeds and do those different things. You're not limited offensively what you can do."
No concerns: Loggains isn't worried about what Jay Cutler is going to say about the Bears offense in the former quarterback's new role as a game analyst for FOX Sports.
"I'm perfectly ready for Jay to criticize our offense," Loggains told reporters. "I'll hear it before you guys do through text message. I think he's going to be wonderful [as an analyst]. Jay's an extremely talented person. He's a smart person. Jay will be successful in whatever he chooses to do and I think he's going to do a wonderful job."