Jay Cutler is playing his best football since being acquired by the Bears in 2009. But it's not the first time the veteran quarterback has performed at such a high level in the NFL.
In 2008, Cutler was voted to the Pro Bowl in his final season with the Broncos when he passed for a franchise-record 4,526 yards and 25 touchdowns while being sacked only 11 times.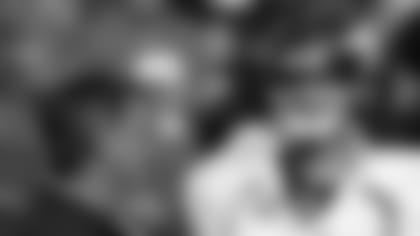 Mike Shanahan coached Jay Cutler for three seasons in Denver from 2006-08.
Cutler's head coach in Denver was Mike Shanahan, who now serves in the same position with the Redskins and will face his former player Sunday in Washington. The quarterback that Shanahan has watched on tape this week looks awfully familiar to the veteran coach.
"That's the way he played for me," Shanahan said Wednesday during a conference call with the Chicago media. "He played at a Pro Bowl level. He got rid of the ball very quickly and distributed the ball well, and I really like what I saw."
Cutler has passed for more yards (1,630) through the first six games of a season than any quarterback in Bears history, and his 95.2 passer rating is well above his 84.8 career rating. He's also thrown multiple touchdown passes in five of the first six games for the first time in his career.
Shanahan feels that Cutler has always been talented, but believes that he's playing better this season due primarily to an improved supporting cast. During the offseason, the Bears completely revamped their offensive line and added tight end Martellus Bennett in free agency. A year earlier, they acquired receivers Brandon Marshall and Alshon Jeffery.
"You have to have a system that you believe in and Jay picks up any system very quickly," Shanahan said. "You're trying to get the best supporting cast to give your quarterback a chance to be successful, and that's what I see that they've done to give him a chance to utilize his talents."
During his first three seasons with the Bears, Cutler experienced ups and downs while playing with lesser talent. Of the 23 other players on offense, 20 have been acquired since Cutler arrived. The only holdovers are running back Matt Forte, receiver Earl Bennett and center Roberto Garza.
"That's part of building a team around a quarterback, and it doesn't happen overnight," Shanahan said. "One of the reasons why you go after a quarterback is you have to have one to give yourself a chance to win, and you try to put a supporting cast around him so he has a chance to be successful."
Another huge factor in Cutler's success this season has been the arrival of head coach Marc Trestman, offensive coordinator Aaron Kromer and quarterbacks coach Matt Cavanaugh.
Trestman, who was hired by the Bears due in large part to his track record molding quarterbacks such as Steve Young and Rich Gannon, spoke to Shanahan about Cutler during the offseason.
"We talked in generalities and basically Mike said you're really going to enjoy working with Jay," Trestman said. "He's a smart guy. He wants to work. He wants to learn. He's coachable.
"It wasn't a long conversation, but it was reassuring to hear it from him. And I didn't have any reason to think that he wasn't going to tell me exactly what he thought because I've never known him to do anything other than that."
While truthful with Trestman, Shanahan wasn't nearly as transparent leading up to the 2006 NFL Draft. He wanted the Broncos to pick Cutler, but didn't talk to the quarterback because he was afraid of tipping his hand. Denver traded up four spots and took Cutler at No. 11 after the Cardinals had chosen quarterback Matt Leinart at No. 10.
"We had a natural athlete that I thought did a fantastic job at Vanderbilt," Shanahan said. "He had a lot of pressure all the time on him, yet he sat in the pocket and made the throws he had to make in the SEC to give Vanderbilt a chance to compete. That really stood out to me.
"He was just a very intelligent, very smart guy that worked extremely hard and had all the things that you look for in a quarterback."