In the second of a nine-part series, ChicagoBears.com takes an in-depth look at the Bears' running back position heading into the 2016 offseason.
Making much more of a commitment to their running game under first-year coach John Fox, the Bears improved from 27th in the NFL in rushing yards in 2014 to 11th in 2015.
Veteran Matt Forte showed no signs of slowing down at the age of 30 while sharing the workload with promising young backs Jeremy Langford and Ka'Deem Carey.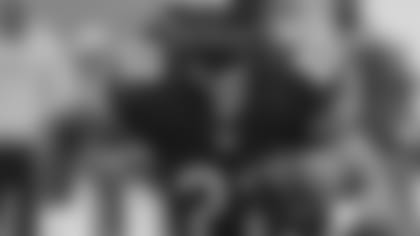 Matt Forte led the Bears in rushing for the eighth straight season, gaining 898 yards in 13 games.
With Forte due to become an unrestricted free agent, the Bears must decide whether to re-sign him or say goodbye after eight seasons and rely more on Langford and Carey.
In 2015, Forte ran for 898 yards and four touchdowns on 218 carries, despite missing three games with a knee injury. He  led the Bears in rushing for the eighth straight year—the longest stretch since Walter Payton was the team's top rusher for 12 consecutive seasons from 1975-86.
Forte also became the second fastest player in NFL history to compile 8,000 yards rushing and 4,000 yards receiving behind only Marshall Faulk.
"He's a workhorse every day," quarterback Jay Cutler said late in the season. "He doesn't change. He's the same guy in the building whether it's Sunday or whether it's Thursday late in the season. He's a consummate professional."
The leadership that Forte brought to the Bears was just as valuable as his on-field performance in 2015, when he was voted a captain for the first time in his career.
"He is a great locker room guy," Fox said late in the season. "He carries the flag. He carries the message. He's involved in our leadership meetings every week. I think he's been a valuable asset to all of us. I can only speak for [2015], from my standpoint, but I think he's done a tremendous job as a leader in that locker room."
General manager Ryan Pace praised Forte during a Jan. 4 post-season press conference, especially his willingness to share the workload with Langford and Carey.
"The way he handled that rotation with those younger guys, that was all really positive," Pace said at the time. "We feel like we have a really good group of running backs. Matt is one of the 18 UFAs that we have that we've got to discuss going forward. We've got to be real thorough and honest with that assessment. But we like the idea of a rotational group of running backs and I thought that was one of our better rooms."
Langford, who was selected by the Bears in the fourth round of the draft out of Michigan State, showed the power to run between the tackles and the speed to get around the edge, rushing for 537 yards and a team-leading six touchdowns on 148 carries.
Offensive coordinator Adam Gase, who has since left the Bears to become head coach of the Miami Dolphins, was impressed with Langford's physicality as a runner.
"His ability to run downhill, I was surprised at how aggressive he was," Gase said. "I know, coming from Michigan State, they did so many gap-scheme plays, downhill plays. But until you get a guy in the building and you start working with pads, you don't really understand how physical [he is].
"At first, when you see him, he doesn't look like an overpowering guy. But the way that he runs, he runs behind his pads, he runs downhill, but he does have some elusiveness to him. He does hit defenders and he can wear on some guys. That has been something that I've been very impressed with. … For the most part, he's been very impressive for a guy that we drafted as late as we did, to come and here and be that effective."
Carey impressed the coaching staff with his tenacity. The 2014 fourth-round pick appeared in 11 games, rushing for 159 yards and two touchdowns on 43 carries.
"Any time we put him in the game we knew we were going to get positive yards because he's so physical, he's so downhill," Gase said late in 2015. "He's going to make sure that he's going to grind it out. If you don't block anybody he's going to find a way to get back to the line of scrimmage, and I feel like he's done that and I feel great about him."