If the NFL Combine was conducted like the Olympic Games, Boston College safety Justin Simmons would have left Indianapolis as the most decorated athlete.
Simmons was the only prospect at the Combine to "medal" in as many as three of the seven field events, finishing first in the 20-yard shuttle run (3.85), tied for first in the 60-yard shuttle run (10.84) and second in the three-cone drill (6.58).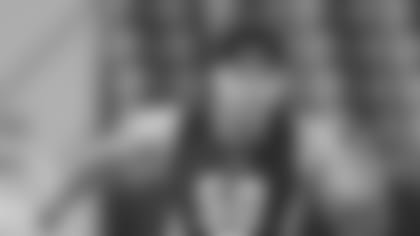 Boston College safety Justin Simmons runs the 40-yard dash Monday at the NFL Combine.


Simmons appeared in 50 games with 32 starts at Boston College. He showed a nose for the football last year as a senior, recording five interceptions, two forced fumbles and three fumble recoveries.
Pro Football Weekly's 2016 Draft Guide ranks Simmons as the fourth best safety in the draft and predicts that he will be selected in the third round. According to the publication, "Simmons is a highly productive, underrated player and can be an ideal NFL free safety. He has awareness and range in coverage and reacts very well to the ball in the air."
Two other prospects won two "gold medals" at the Combine. California running back Daniel Lasco and Florida State cornerback Jalen Ramsey tied for first place in both the vertical jump (41.5 inches) and the broad jump (11'3").
The only other prospect to "medal" in multiple events was Colorado State cornerback DeAndre Elliott, who finished third in both the 20-yard shuttle run (3.94) and tied for third in the vertical jump (41.0).
The top three finishers in the 40-yard dash were Georgia running back Keith Marshall (4.31), Notre Dame receiver Will Fuller (4.32) and Auburn cornerback Jonathan Jones (4.33).
The "medal winners" in the bench press were Arizona State guard Christian Westerman (34 reps of 225 pounds), Georgia tackle Chris Mayes (33) and Missouri guard Connor McGovern (33).
Stanford receiver Devon Cajuste (6.49) won the three-cone drill ahead of Simmons and California receiver Trevor Davis (6.60).
Simmons shared first place with Ohio State receiver Braxton Miller (10.84) in the 60-yard shuttle run ahead of West Virginia cornerback Daryl Worley (10.87).
Temple cornerback Tavon Young (3.93) finished second in the 20-yard shuttle run, while TCU receiver Josh Doctson, Virginia Tech defensive end Dadi Nicolas and Oklahoma receiver Sterling Shepard all tied Elliott for third in the vertical jump (41.0).