Matt Slauson would have preferred a lucrative long-term deal. But the one-year contract he signed with the Bears last March gave him one season to audition for a more permanent role.
"The free agency market being what it was last year was a little disappointing, but the opportunity to come to the Bears, to such a great organization, was awesome," said the veteran guard.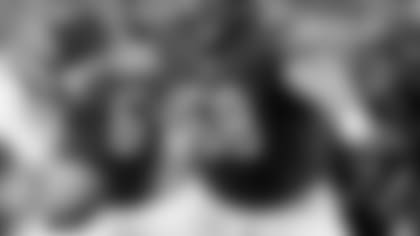 Matt Slauson will be protecting Jay Cutler for the foreseeable future after both signed new deals.
"I was really excited about it, and I know the Bears have a reputation of taking care of the guys that they bring in and perform well. A perfect example of that is [center Roberto] Garza, and I kind of wanted to follow in that track."
Slauson did just that. After starting all 16 games at left guard on a record-breaking offense, the 6-5, 315-pounder on Thursday signed a four-year extension with the Bears through 2017.
This season Slauson was part of an offensive line that allowed just 30 sacks, tied for the fourth fewest in the NFL, and paved the way for Pro Bowl running back Matt Forte to rush for a career-high 1,339 yards, the most by any Bears player other than Hall of Famer Walter Payton.
Quarterback Jay Cutler, who also signed a long-term extension with the Bears Thursday, said that Slauson brought toughness, nastiness and veteran leadership to the team, and served as an excellent role model for rookie guard Kyle Long, a first-round draft pick.
"He's constant," Cutler said of Slauson. "Every single day he's grinding. He was able to show Kyle what it takes to be a successful guard in the NFL. Kyle was able to see it firsthand and on film and be able to talk to him on a daily basis. So it was huge.
"I think Matt enjoyed doing it, being a semi-coach for Kyle and the young guys and helping them along. Obviously there are frustrating times as you go through those things working with the young guys. But Matt did a great job. I was really excited to hear that he's going to be here four more years protecting me."
The Bears revamped their offensive line last offseason with Slauson and left tackle Jermon Bushrod arriving via free agency and Long and right tackle Jordan Mills being selected in the draft. Top reserves Eben Britton and Taylor Boggs were also new to the team.
Asked how the line excelled in its first season together in a new offense, Slauson said: "This group is incredible. They work so incredibly hard. I actually told coach [Marc] Trestman that one of the first days I was here. I have never seen anything like this, the way that this team works, the tenacity the constant effort, it's incredible."
Slauson also credited line coach Aaron Kromer, assistant Pat Meyer and quality control coach Brendan Nugent.
"They all worked extremely hard getting ready for this," Slauson said. "They're here all hours of the day and night just trying to prepare us. Having four new guys on a line is tough and it speaks to us as players, the work that we put in, but especially the coaches working incredibly hard to get us ready."
Like Cutler and cornerback Tim Jennings-who also signed an extension Thursday-Slauson wanted to remain with the Bears and not test the free agent market.
"I don't want any part of that," he said. "I love Chicago. I want to be here. My family really likes it here. I have always said that was part of the reason I came here. If I get the opportunity to stay, I'm going to jump all over it."