Bears guard Matt Slauson has been voted the winner of the 2015 Good Guy Award by the Chicago chapter of the Professional Football Writers of America.
The veteran offensive lineman was given the award based on his professionalism, courtesy and respect during the 2015 season. On the field, Slauson has started all 13 games, 10 at left guard and three at center.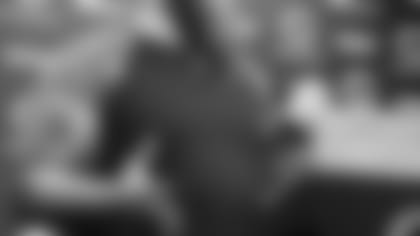 Bears guard Matt Slauson meets the media after being voted the winner of the 2015 Good Guy Award.


"I really appreciate being the recipient of the award," Slauson told reporters. "I feel like you guys have a job to do. I have a job to do, and part of the reason I have a job is because of the fans and you guys are a highway to the fans so we can kind of communicate to them and give them a look into what we do every day.
"Especially at a time like this when things aren't going great, I kind of use it as an opportunity to reassure fans that we're working our tails off, and the best way for us to do that is through you guys."
In presenting the honor to Slauson, PFWA vice president Dan Pompei called the Bears guard a "great example for young players to follow" who "does everything the right way" and is a "pro's pro."
"I'm sure [Bears general manager] Ryan Pace and [coach] John Fox would like a whole locker room full of Matt Slausons and I think we would like a whole locker room of Matt Slausons, too," Pompei said.
Slauson also won the Good Guy Award in New York in 2011 when he played for the Jets. He is the third annual winner in Chicago, following quarterback Josh McCown in 2013 and safety Ryan Mundy in 2014.
The Bears honor the annual Good Guy winners with a photo gallery in the media room of the PNC Center at Halas Hall.