While some outside Halas Hall may view the Bears offensive line as a question mark heading into the 2012 season, coach Lovie Smith has the utmost confidence in the unit.
"We are comfortable. We are excited," Smith said Monday night when asked about the line during the Bears Insider radio show on WBBM 780AM and 105.9FM. "We can't wait to get the group together; I'm talking about playing a regular season game."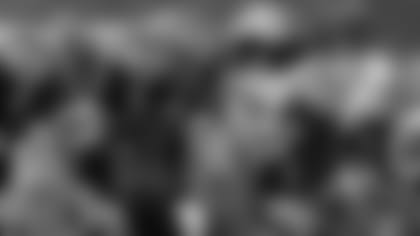 Gabe Carimi (72) returns to join the Bears offensive line after missing the final 14 games of his rookie season in 2011.
When they open the season Sunday against the Colts at Soldier Field, the Bears are expected to start J'Marcus Webb at left tackle, Chris Spencer at left guard, Roberto Garza at center, Lance Louis at right guard and Gabe Carimi at right tackle.

"We had competition at quite a few of the positions and the players that end up starting for us right now, we feel like we can win a lot of football games with them," Smith said.

Last season Garza (16), Webb (16), Spencer (14) and Louis (13) combined to start 59 of a possible 64 games for an offense that rushed for more than 2,000 yards for just the second time since 1990.

"Everyone wants to talk [negatively] about the offensive line," Smith said. "If you go back to last year, there's a period of time where we played pretty good football on our offensive line."

After starting all 16 games at left tackle last season, Webb maintained the No. 1 job despite being challenged by Chris Williams in training camp and the preseason.

"He won the starting left tackle position," Smith said of Webb. "He has great size and he has good ability for a left tackle in the league.

"We have to do some things to help out. You look at every offensive line in the NFL and there aren't five All-Pro linemen there. We feel like our offensive line is as good as any other out there.

"But again, that's why you can't wait to get to this game. We'll be tested the first time out. The Colts have two excellent pass rushers in [Robert] Mathis and [Dwight] Freeney. So we'll get a chance to see. But I think we'll be OK."

General manager Phil Emery is also confident in Webb and the rest of the line.

"When you talk about J'Marcus Webb, there's an individual with ideal measurements for the position, and he's developing and coming together," Emery said.
"More importantly, he's starting to gel with Chris Spencer and working with the center and the right guard and Gabe Carimi at right tackle. Those players working and communicating will determine our success, and I see that improving each time out."
Emery knows that building cohesiveness is probably more important for an offensive line than at any other position.
"They are starting to come together," Emery said. "I'm looking forward to seeing how they gel, and I have a lot of belief in that group. Are there changes down the road? Those changes would only happen if those five can't come together as well as we see them doing. They have made progress, and we feel very good about that group and the direction they're going."