ChicagoBears.com senior writer Larry Mayer speaks with coach Lovie Smith about the most pressing issues involving the Bears every Wednesday during the season.
LM: How big of a blow is it to the Bears special teams losing Robbie Gould, Craig Steltz and Sherrick McManis to season-ending injuries?
LS: "It's a blow. Robbie Gould has kicked so many big field goals for us. He really tried to help the team doing what he could Sunday in Minnesota. We're going to miss Robbie. There's no way around it. But no matter who we have that goes down, the next guy must step up and in this case it's Olindo Mare. With Craig Steltz and Sherrick McManis, they're the fiber and core of our special teams. Steltz has been around here forever and he's done so much. We'll miss both of those guys, but we have guys that can replace them."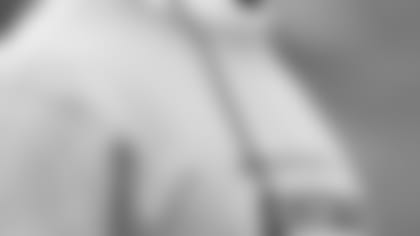 Lovie Smith
LM: What are your thoughts on adding Mare? At 39, does he still have enough left in the tank?
LS: "He's 39, but he has a strong leg. He's kicked a lot of big field goals. That's one position where you can go a little bit longer. He's in excellent shape, has a strong leg and won the competition."
LM: What has impressed you about receiver Joe Anderson, who was promoted from the practice squad to the 53-man roster on Tuesday?
LS: "The way he competes every day. He's been going against our No. 1 defense all year. He just brings toughness to the receiver position. He'll also bring that same toughness to special teams."
LM: Like most players who starred in college, I'm sure Joe didn't play a lot of special teams at Texas Southern. How tough is it to get young players to buy into that role?
LS: "They realize that special teams could be their ticket to surviving in the NFL. If you're the ultimate team player, whatever the team asks you to do you'll do. And if you're a skilled guy like that, you can normally help your team on special teams. Joe didn't play a lot of special teams at Texas Southern, but he possesses all the qualities to be successful in that role: quickness, speed, strength, aggressiveness and toughness."
LM: Why did the Bears waive veteran offensive lineman Andre Gurode two weeks after signing him?
LS: "Andre did a good job for us. It was just a numbers game. Chris Spencer is back healthy now and we just needed a roster spot."
LM: The Bears offense has struggled against the Packers defense the past few seasons. What's the key for the offense Sunday at Soldier Field?
LS: "I'm going to start with protecting the football. We had four turnovers the last time we played them. Those are a lot of opportunities we're giving them. We have to win that turnover ratio to give ourselves a chance."
LM: You went 7-3 against the Packers in your first five seasons, but have since lost seven of eight games. What's been the biggest difference?
LS: "When you're dealing with a rival, you go through a period of time where you have their number and you go through a period of time when they have yours. We're hoping all that changes Sunday. The Packers flipped the switch and have momentum. But in rivalries it's always about that one game where momentum is going to go that other direction. We feel it's ripe for it to flip. We're playing at home and we need to get off to a fast start. In the [2010 NFC Championship Game] they went up 14-0 on us and most of our recent games against them have been like that. Getting off to a fast start Sunday is really important."