ChicagoBears.com senior writer Larry Mayer speaks with coach Lovie Smith about the most pressing issues involving the Bears every Wednesday during the season.
LM: Last week you talked about the need to strip the ball and cause more fumbles on defense, and the Bears forced four fumbles and recovered three in Monday night's win over the Lions. As a coach, what's it like to see your team respond like that?
LS: "You feel good as a coach. But I already knew our players take coaching and they're aware. We have some veterans who have been around here. They listen and they want to do everything that we think is important for us to win a football game. Time-after-time you see it happening on the field. It's still fun to see though. In terms of the fumbles, you can't just rely on the quarterback throwing you the ball. If they're running a play, you should have an opportunity to take the ball away. It's as simple as that, and guys have bought into that."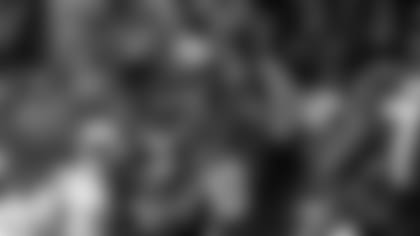 Julius Peppers recovered a fumble that was forced by Lance Briggs in Monday night's 13-7 win over the Lions.
LM: The Bears generated three takeaways in the red zone, including two inside their five-yard line. How demoralizing is that for an offense?
LS: "It's crushing to turn the ball over down there. I remember in Atlanta a few years back when we moved the ball, got it down in the red zone and had those red zone turnovers too. It hurts because you're taking points off the board; odds are you're going to at least hit a field goal. It's at least three points you're taking about."
LM: What will be the emphasis this week as you prepare to host the Panthers?
LS: "When you've played six games, you've touched on most of the things and guys know what you need to do to win a football game. So we're just going to try to hit on all of the things that we've been doing. Offensively, we need to score more points. We've had times where we've moved the ball. We had nine penalties against the Lions and some of them took us out of good field position. We have to clean that up. And I'm going to still talk about the return game. We just haven't gotten enough production from our punt and kickoff return games."
LM: What are your thoughts on facing Carolina quarterback Cam Newton, who hasn't performed at the same high level this season that he did last year as a rookie?
LS: "The last time we played him, he had a career game against us here at Soldier Field. So our guys are familiar with him. He's capable and they're capable. They have a good defense too. But just look at their offense. They have a great quarterback who's as talented as any quarterback in the league, two very good high paid running backs for a reason (DeAngelo Williams and Jonathan Stewart), an excellent offensive line, a real good tight end (Greg Olsen) that we know all about and a special receiver (Steve Smith). So it won't take our guys an awful lot to really get up. We have to be ready to beat this team."