ChicagoBears.com senior writer Larry Mayer speaks with coach Lovie Smith about the most pressing issues involving the Bears every Wednesday during the season.
LM: The Bears defense is ranked No. 1 in the Aikman Ratings, which factors in several key statistical categories and not just total yards. How pleased have you been with how the defense has performed to this point in the season and what has impressed you most?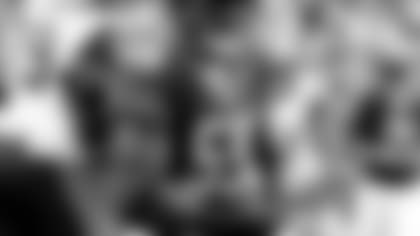 Lance Briggs and the Bears defense didn't allow the Rams to advance past Chicago's 28-yard line in Sunday's win.
LS: "First off, I do like the improvements we've been making. I know it's 'coach talk,' but it all starts up front. What we're able to do with the back seven is based on how much pressure we're getting just rushing four guys, and that pressure has been good. We think defense is about more than just total yards. In fact, that's one of the least important things, as we see. First, it's about taking the ball away, and we've gotten takeaways. It's also about third-down conversions, and to score a defensive touchdown is saying quite a bit. The guys have played well. To give up only six points [in Sunday's win over the Rams] against a team and a quarterback that were really hot, I'm very proud of how the defense played."
LM: The defensive line has excelled, accounting for 13 of the Bears' league-high 14 sacks. Everyone knows what Julius Peppers and even Israel Idonije can do. But how has the emergence of some young players bolstered the depth and competition on the line?
LS: "We have a starting four, but with what linemen have to go through every play, it's hard to maintain that playing every snap. So we're going to have a seven-man rotation, and guys realize that. Everyone wants to have success, and once you see guys having fun sacking the quarterback and getting pressure, you want to be a part of that, and that's what we have. First, it's a battle to get the uniform and be one of the seven. From there you know you have to take advantage of your reps that you get. You mentioned Peppers and Idonije; they've been playing very well. It's also good to see the next group learning from them and coming along. I'm talking about Henry Melton, Shea McClellin, Corey Wootton, Amobi Okoye and Stephen Paea."
LM: On Amobi Okoye's sack against the Rams, it looked like he was racing Stephen Paea to the quarterback. I'm guessing you like to see your players push each other like that?
LS: "You want that type of competition, to perform at a certain level, and not just with the pass rush. You want that as far taking the ball away. You put so much of an emphasis on it. That big play board down in the defensive room is important."
LM: The offense played better against the Rams than it did in Green Bay, but it's still looking for more consistency. How much progress do you feel the unit is making?
LS: "We got off to such a good start, scoring 41 points [in a season-opening rout of the Colts]. No team is going to do that every week. We didn't play well in our second game. For us, it was about making improvements from Game 2 to Game 3, which we did. That's how I see it. Our sacks went down, our turnovers went down, and those are the things that allowed us to be able to win a game with ball control. We play in the elements in Chicago and we may not always be able to sling the ball around. You have to be able to win football games in Chicago rushing the ball 34 times."
LM: What are your thoughts on facing the Cowboys in Dallas on Monday Night Football?
LS: "When you say 'Dallas Cowboys' and 'Monday Night Football,' those are two things right there that should be enough to get you going. There's only one game on Monday night; all of your peers are watching and you want to play well. Our guys really play well when they're on that national stage like that. And it's the NFC. You're supposed to win your home games and steal some on the road. To have an opportunity to get an NFC road victory is big for us."