One day after the Packers clinched the NFC North title with a win at Soldier Field, coach Lovie Smith conceded that the Bears' margin of error is miniscule as they continue to battle for a playoff spot.
Having lost five of their last six games, the Bears (8-6) are hoping to close the season with road wins in Arizona and Detroit and get help from other teams to earn a wildcard berth.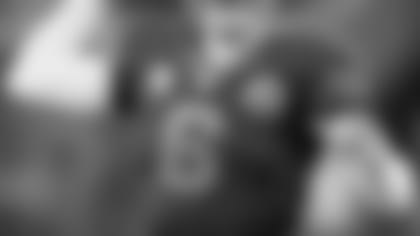 Jay Cutler throws a pass during Sunday's 21-13 loss to the Packers at Soldier Field.
"Yesterday's game was a must game for the NFC North championship, but besides that it wasn't a must game as far as what can happen with our season," Smith said.
"This week we're to that must game. I mean, the tournament has begun for us, so it's about Arizona as soon as the players get a chance to watch the video. We have to find a way to get to 10-6 and see what happens."
The Bears would earn a wildcard berth by winning their final two games coupled with one of the following scenarios: 1) One Vikings loss and one Giants loss; 2) One Vikings loss and two Seahawks losses; 3) One Giants loss and two Seahawks losses; 4) One Vikings loss, one Redskins loss and one Cowboys loss; 5) Two Seahawks losses, one Redskins loss and one Cowboys loss.
"We haven't gone over every scenario," Smith said. "For us, it's about finishing 10-6. In order to get to 10-6 it's just about beating Arizona and getting to 9-6. It's as simple as that. I think that's the approach most of the 8-6 teams will take.
"Every year there are people in situations like this. Unless you've clinched a playoff position right now, you're still having to win football games to get in. But you don't look at all the scenarios. You just look at what you need to do. And for us we need to win a game this week and then win another one the following week. It's as simple as that. There's nothing else we can do except for that."
The Bears will have trouble beating the Cardinals or any other NFL team without improving on offense. In Sunday's 21-13 loss to the Packers, they mustered only 190 yards and one touchdown, went 0-of-9 on third down and failed to get into the end zone on three plays from the one-yard line.
The Bears have averaged 14.2 points in their last six games after averaging 29.5 in their first eight.
"We need more production, need more points," Smith said. "When you're inside the 10-yard line in the red zone you need touchdowns in those situations and that was really big."
The Bears trailed 21-7 late in the third quarter Sunday when Matt Forte was stopped for no gain on back-to-back plays from the Green Bay 1. They eventually settled for a field goal.
"Normally it's a combination of blocking a little bit better and running a little bit better," Smith said. "It's not an exact science a lot of times. I just know when you're in a situation, everybody that's involved in the play needs to do a better job."
Just as costly was a Jay Cutler interception that cornerback Casey Hayward returned 24 yards to the Bears' 26. The Packers converted the miscue into Aaron Rodgers' eight-yard touchdown pass to receiver James Jones, giving Green Bay a 14-7 lead with :28 left in the first half.
It's unknown whether Cutler or intended receiver Devin Hester deserved more of the blame for the interception, but the two certainly were not on the same page.
"Normally if there's a bad play, it's a combination of things," Smith said. "I'm sure Jay would like to have the ball back. Devin would probably say he could run a little bit better route. There are a lot of things that go into that. I just know that it was a play that really gave them momentum as much as anything."
Roster move: The Bears on Monday placed defensive tackle Matt Toeaina on injured reserve and promoted offensive tackle Cory Brandon from the practice squad to the 53-man roster.
Brandon has spent the last nine weeks on the Bears practice squad. The 6-7, 324-pounder entered the NFL in 2011 as an undrafted free agent with the Buccaneers. He originally signed with the Bears in June and spent training camp and the preseason with the team.
Toeaina appeared in three games with two starts this season. In six years with the Bears, he has started 24 of 36 games played, recording 66 tackles, two sacks and one fumble recovery.