INDIANAPOLIS — We won't know which prospects who participated in the NFL Combine will be headed to Chicago until the draft in May. But some of them already have ties to the Bears:
Mike Evans
The 6-5, 231-pound receiver from Texas A&M revealed at the Combine that he's patterned his game after Bears 6-4, 230-pound Pro Bowl receiver Brandon Marshall since high school.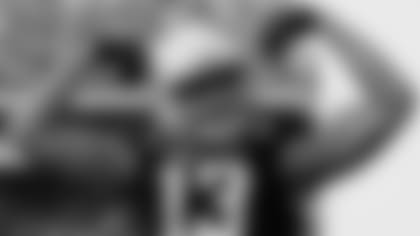 Texas A&M's Mike Evans has modeled his game after Brandon Marshall since being in high school.
"I get a lot of Vincent Jackson comparisons and that's a great comparison," Evans said. "But I think Brandon Marshall. He's vicious after the catch; a big, physical guy who can go up and get it and blocks real well. I've modeled my game after him since high school."
Evans, who is projected as a first-round draft pick, caught 82 passes for 1,105 yards and five touchdowns in 2012 and 69 passes for 1,394 yards and 12 TDs in 2013.
Bruce Ellington
The 5-9, 196-pound receiver teamed with Bears Pro Bowl wideout Alshon Jeffery at South Carolina in 2011. Their lockers were next to each other and the two remain close. Ellington said that Jeffery called to give him some advice heading into the Combine.
"He told me just to go out there and do my thing," Ellington said, "that it's going to be hard with all the media and going through the [medical tests], but just prepare yourself for the next level."
Ellington, who also played basketball at South Carolina, caught 49 passes for 775 yards and eight touchdowns last year as a junior. He said that he's inspired by Jeffery's success with the Bears and hopes to follow in his footsteps in the NFL.
"It's a big example just to see what he's doing and where he came from," said Ellington, who is ranked as the 11th best receiver and 67th player overall in the draft by ESPN.com. "That's just going to push me to strive to be just like him."
Blake Bortles
The highly-touted quarterback from Central Florida has been honing his skills in preparation for the draft with Bears third-string quarterback Jordan Palmer.
"It's been awesome," said Bortles, a 6-5, 232-pounder who is projected in some mock drafts as a top-10 pick. "To work with Jordan Palmer has been a huge help. It was definitely a big help for him to videotape me while I was throwing and then make corrections and see the changes, see what I was doing wrong, what I needed to be doing and how I got there.
"It's been a lot of fun. It's been a lot of work and it's still a work in progress."
James Gayle
The Virginia Tech defensive end/outside linebacker is the nephew of former Bears safety Shaun Gayle, a member of the 1985 Super Bowl XX championship team.
"I talk to my uncle a lot," said Gayle, who's projected to be selected in the fourth or fifth round. "I haven't talked to him in a while, but he's been very influential throughout my whole career. He knows so much about what's going on because he did it. He played in the league for 12 years.
"Something that he said to me that will always probably stick out is, 'Be yourself and play hard.' So that's what I did."
Michael Schofield
The Michigan offensive tackle, who was raised in Orland Park and attended Sandburg High School, said that he would love to play for his hometown team.
"I grew up a Bears fan just being from Chicago, so that would be pretty awesome," Schofield said. "My family would probably be able to come to every game, which would be huge for me."
Reginald Jordan
The Missouri Western State tight end hopes to join former college teammate David Bass, a Bears defensive end, in the NFL. Bass, who showed promise while appearing in 12 games as a rookie in 2013, called Jordan last week to provide some advice about the Combine.
"He actually tried to explain the whole thing," Jordan said. "You never get used to it until it actually comes upon you. I mean he tried, but this is just a surreal experience now."