Back on the practice field this week, one of the Bears' top priorities is to improve on special teams after a sub-par performance in last Friday night's preseason opener versus the Eagles.
"We didn't play very well," special teams coordinator Joe DeCamillis said Monday in Bourbonnais. "We had a lot of miscues. What's disappointing is practice has been going well. We felt like it was a good training camp up to this point. So we've just got to be positive going into this next game and try to get some of those things taken care of and try to get some of the mistakes corrected."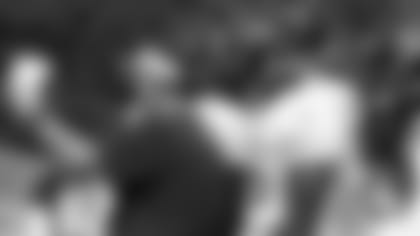 Special teams coordinator Joe DeCamillis works with Bears players during practice in Bourbonnais.
The Bears beat the Eagles 34-28 despite surrendering a touchdown on a 102-yard kickoff return, committing a turnover on a muffed punt and having a 41-yard field goal attempt blocked.
"We didn't play well on special teams; I think we're mindful of that," said coach Marc Trestman. "We've gone through it very closely. We're going to move some people around during the week and see where we go with special teams. But we're extremely optimistic certainly."
As the Bears prepare to host the Jaguars Thursday night at Soldier Field, jobs remain open at punter, long-snapper and in the return game. They're also seeking to establish a core of about eight players to lead their punt and kickoff coverage and return teams.
"We've got to start finding out the guys who are going to play for us on Sunday," DeCamillis said. "There's no question about that. It's still an evaluation, but I think one of the things that wasn't as good at the start of the year, if you watched our performance last year, was we didn't start out great, but then they came on after the fifth game and really started playing well.
"We need to see the guys who are going to play on Sundays. That's our goal going forward and especially by the third preseason game, we've got to see those guys and they have to play together as a unit."
In the battle for the punting job, neither Pat O'Donnell or Tress Way had a particularly good outing against the Eagles. O'Donnell averaged 43.5 yards with a 33.5 net and one touchback, while Way averaged 37.5 yards with a 37.5 net, though he had a 63-yard punt nullified by a penalty.
"It was a tough game," DeCamillis said. "If you look at the other side, Philly's guy was struggling too. That was a brutal wind to start out with the first game. We'll keep it going and see how it goes this week."
Long-snappers Brandon Hartson and Chad Rempel performed adequately, but their competition is far from over. Asked how they fared in the preseason opener, DeCamillis said: "Again the wind affected it a little bit, but I thought it was a decent night. We'll see what happens this week."
Eric Weems seemingly remains the leading candidate to replace Devin Hester as the Bears' primary punt and kickoff returner. Against the Eagles, Weems called fair catches on the two punts he fielded and had kickoff returns of 23 and 21 yards.
In his first five NFL seasons with the Falcons from 2007-11, Weems averaged 25.6 yards on 113 kickoff returns and 10.6 yards on 77 punt returns. He was voted to the Pro Bowl in 2010 when he returned three kicks for touchdowns, including a 102-yard kickoff return in a playoff game against the Packers.
Weems was used sparingly in the return game the past two seasons with the Bears, however, because he was behind Hester, who owns the NFL's all-time record with 18 combined kick return touchdowns.
"What [Weems] didn't have a chance to do here with Devin being here was as a returner, which he did in Atlanta, so we'd like to get him more reps there," DeCamillis said.
The Bears had planned to give former CFL star Chris Williams a chance to return kicks against the Eagles, but he injured his hamstring while catching a 73-yard touchdown pass.
"He had the second half, so that was disappointing to see that happen," DeCamillis said. "But you did see the speed on that catch, so hopefully we can get that formulated in the kicking game."