After releasing Eric Weems on Saturday, the Bears will continue their search for a return specialist by sending veteran Micheal Spurlock up to the plate to take his swings at the job.
Spurlock signed with the Bears June 3 after appearing in 67 games over seven seasons with the Cardinals, Buccaneers, Chargers, Jaguars, Lions and Cowboys. He has averaged 9.6 yards with two touchdowns on 81 punt returns and 24.2 yards and three TDs on 107 kickoff returns.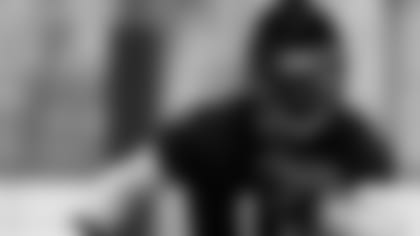 Micheal Spurlock will get the first chance to return kicks in Friday night's preseason game in Seattle.
"He's had some production in the league," special teams coordinator Joe DeCamillis said Monday after practice, "so he's really the first one at bat right now."
The Bears added another competitor to the mix later Monday when they signed Darius Reynaud, who has appeared in 48 NFL games over five seasons with the Vikings (2008-09), Giants (2010), Titans (2012-13) and Jets (2013).
The Bears also want to take a look at former CFL standout Chris Williams. The 5-8, 175-pound receiver returned to practice Monday for the first time since injuring his hamstring on a 73-yard touchdown reception Aug. 8 in the preseason opener against the Eagles.
The Bears signed Williams prior to last year's season finale off the Saints' practice squad. Before joining New Orleans last October, he spent three seasons with the Hamilton Tiger Cats, setting a CFL record with six return touchdowns in 2012.
"We're trying to see where Chris Williams is at," DeCamillis said. "The speed obviously shows up. We saw it on [his 73-yard TD]. We just have to see him in some live-bullet situations to see how he's going to catch punts in the National Football League. Hopefully we get a chance to do that."
Veteran receiver Santonio Holmes, who signed with the Bears on Saturday, also could be a possibility. He fielded punts Monday during his first practice with the team.
"We'll see where that goes," said coach Marc Trestman. "We're just trying to find as much value in him as we can as we move along and he's certainly come with a willingness to help in any way he can."
Holmes hasn't served as a primary return specialist since early in his career with the Steelers. But he's willing to audition for that role with the Bears, especially now that he has fully recovered from a foot injury he suffered while playing for the Jets.
"If it will help the team, I'm all for it," Holmes said. "It'll give me an opportunity to get on the field and showcase what my foot has to offer to the team, which is being healthy right now."
As a Steelers rookie in 2006, Holmes averaged 10.2 yards with one touchdown on 26 punt returns and 24.2 yards on 18 kickoff returns.
"I know he's had some production," DeCamillis said. "We're working through that one as we go. We have to really try to see what he can bring to the table. I know he's very receptive to it. He's a competitive guy and anything he can do to help us win I'm sure he's going to do."
Other return-specialist candidates include Michael Ford, who has averaged 24.5 yards on two kickoff returns this preseason; Armanti Edwards and Senorise Perry.
Weems entered training camp as the favorite to win the job, but he was released after failing to take advantage of multiple opportunities. In the first two preseason contests, he averaged 23.2 yards on six kickoff returns and lost a fumble last Thursday night against the Jaguars.
"First of all I have a world of respect for him," DeCamillis said. "He's a great individual. He's exactly what football's about, just the way he conducts himself and the way he does things. But at the end of the day we've got to make the best 53 for the Chicago Bears."