CLEVELAND -- With the preseason finally coming to an end Thursday night in Cleveland, the Bears can now focus all of their attention on the Sept. 9 season opener against the Colts.
Of course, that planning has already been underway. To ensure they wouldn't lose any key players to an injury, the Bears held out all 22 starters and even some top reserves against the Browns.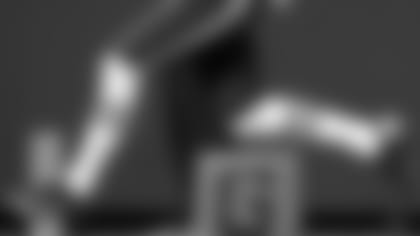 Bears rookie Brittan Golden returns a blocked punt 22 yards for a touchdown in Thursday night's 28-20 win in Cleveland.
That gave the team's unheralded players a chance to prove they deserve a spot on the 53-man roster, and receiver Dane Sanzenbacher, running back Armando Allen and cornerback Greg McCoy were among those who took advantage of their opportunities in a 28-20 victory.
Sanzenbacher made a spectacular one-handed 30-yard touchdown catch with cornerback Trevin Wade draped all over him; Allen caught an 11-yard TD pass, forced a fumble on a punt return and had a 49-yard run; and McCoy returned an interception 15 yards for a score.
"This was a Super Bowl for some players, trying to earn a spot on the roster or just establish their position," said coach Lovie Smith. "As much as anything, you wanted to see the guys playing hard, their last shot to prove they belong in the NFL, and we were able to get that."
Playing the entire game, third-string quarterback Josh McCown also performed well, completing 20 of 29 passes for 157 yards with two touchdowns, one interception and a 90.7 passer rating.
Sanzenbacher's TD reception gave the Bears a 7-0 lead midway through the first quarter. It came one snap after rookie safety Jeremy Jones intercepted a Colt McCoy pass by leaping over receiver Jordan Norwood. Jones returned the pick 13 yards to the Cleveland 30.
Allen's TD catch put the Bears ahead 14-0 with 4:19 left in the second period. The running back lined up wide left on the play and caught McCown's perfectly-thrown pass on a slant pattern.
Allen rushed for 83 yards on 16 carries and caught five passes for 51 yards, while Lorenzo Booker gained 81 yards on 15 attempts and had four receptions for 16 yards.
The Browns cut the lead in half to 14-7 on Seneca Wallace's two-yard touchdown pass across the back of the end zone to receiver Rod Windsor with :41 remaining in the first half.
On the Bears' opening drive of the second half, McCown's pass intended for Terriun Crump was intercepted by safety Tashaun Gipson at the Chicago 45. After a sack by defensive end Cheta Ozougwu, the Browns settled for Phil Dawson's 39-yard field goal, closing to within 14-13.
The Bears answered by scoring two touchdowns-one on defense and the other on special teams-in a 1:30 span late in the third quarter to take control of the game.
First, McCoy intercepted a Thaddeus Lewis pass and returned it 15 yards for a touchdown. The rookie cornerback jumped the route, deflected the pass and then plucked the ball out of the air after it caromed off the back of receiver Josh Gordon's lower leg.
Officials initially ruled the pass incomplete, but Smith challenged the call and it was overturned by referee Richard Nicks.
"I was so happy," McCoy said. "I didn't know what to do. I was just trying to tell Lovie to challenge it because I knew I caught the ball and I knew I got into the end zone."
The seventh-round draft pick was very pleased that Smith threw the red challenge flag.
"I'm grateful for that," McCoy said. "It just shows that he's always behind his players and I'm just glad I'm in an organization like that."
The Bears increased their lead to 28-10 as Patrick Trahan was credited with a blocked punt that Brittan Golden returned 22 yards for a TD. Trahan never actually touched the ball; he shoved the Browns' Windsor backward and Reggie Hodges' punt deflected off Windsor's back.
The Browns closed the gap to 28-20 on Adonis Thomas' 1-yard TD dive late in the fourth quarter and Dawson's 42-yard field goal with 4:58 remaining.
Allen helped the Bears run out the clock on their ensuing possession with a nine-yard rush on third-and-four followed by a 49-yard dash up the middle to the Cleveland 27 on the next play.
"I'm proud of the guys that played with me," said McCown, a 10-year NFL veteran. "A lot of them were probably in junior high when I started playing in the league. But they all played hard.
"It's the fourth preseason game and it's not that big of a deal but for the guys that are in there playing because the reality is it may be the last time you put the pads on. You just don't know. So it's special to finish strong like that for those guys. I'm happy for those guys that had that moment and played hard and finished the game."
The Bears must cut 22 players by 8 p.m. Friday to reach the NFL's mandatory 53-man roster limit.
"A lot of players in there won't be with us anymore," Smith said. "I assume as a player going out you don't want any regrets, and you don't have any regrets if you can say, 'Hey, I gave it my all. I played as well as I could the last time out.' And I think most of the guys can say that tonight."