After losing two of their top four safeties to injuries Saturday night against the Redskins, the Bears are expected to look to reserves Craig Steltz and Anthony Walters to help fill the void.
Steltz is a versatile and experienced five-year veteran who performed well when injuries forced him into the starting lineup late last season, while Walters is an untested second-year pro.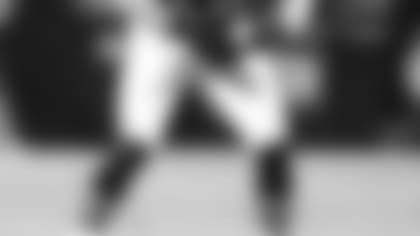 Craig Steltz was selected by the Bears in the fourth round of the 2008 NFL Draft.
Both figure to get more opportunities to play after Chris Conte hurt his shoulder in the second quarter Saturday night and rookie Brandon Hardin injured his neck in the third period.

Hardin remained down for about 10 minutes after he tackled Redskins tight end Logan Paulsen on a pass play over the middle. The rookie safety was placed on a back board and wheeled slowly off the field. Fortunately, Hardin never lost consciousness and was able to move his hands and arms.

"He's day-to-day right now," coach Lovie Smith said Monday. "He has a neck injury. If you can find someone that can pinpoint exactly when he'll be back, let me know. We'll start using them. So I really can't tell you a lot more than that. He's back up here. He's getting better."

Steltz is accustomed to picking up the slack for an injured starter. Joining the No. 1 defense after Major Wright hurt his shoulder last Dec. 4, Steltz recorded 37 tackles in the final five games, third on the Bears behind only Pro Bowl linebackers Brian Urlacher (44) and Lance Briggs (41).

"[Having experience] helps just to step in whether that's at strong safety or free safety at any point in the game and be ready," Steltz said. "We always talk about whether you're second- or third-string, just prepare like you're the starter. So no matter what the situation is you're able to step in."

Although it seems as if injuries have decimated the safety position each of the past several years, Steltz is focused solely on the present and living in the moment.

"You can't look to the past or the future," said the former LSU star. "Just take the moment and what the situation is, and that's get better this week, worry about the situation now, and let's go out there and have a good game and finish up this preseason strong."

After struggling in the preseason opener against the Broncos, Walters performed better versus the Redskins, recording one tackle on defense and a team-leading two stops on special teams.

"Anthony Walters played well," Smith said. "We asked him to improve his play from the first game. He did that as a safety and also as a special teams player. But that's what you find out. When guys get cast into different roles, you see they can do a little bit more than you thought they could."

Walters joined the Bears as an undrafted free agent from Delaware in 2011. After spending the first five weeks of the season on the practice squad, he was promoted to the 53-man roster. The 6-1, 207-pounder recorded one special teams tackle in four games before being placed on injured reserve with a hamstring injury.

"Opportunities are opportunities," Walters said. "I've had a couple of chances since I've been here so far and I kind of look at every opportunity the same. This one I'll have more chances, more reps to prove myself. But I've always had reps here or there to show, which is why they kept me last year when they put me on IR. So I was grateful for that. Now I'm just working off of last year."

Although Walters was not able to practice after being placed on injured reserve last season, he still benefited from attending meetings and watching his teammates on tape.

"There's a lot of learning that takes place vicariously through other players," Walters said. "I think that helped a lot. Going into camp this year, I knew the defense pretty well. The coaches will say that I know it very well and I feel comfortable with it, but you still need reps. You still need to get out there and do certain things and this is a good chance for it." [ ](http://www.phoenix.edu/campus-locations/il.html?utmsource=Story&utmmedium=instory&utmcampaign=300x100)
The Bears bolstered the safety position Monday by signing Mark LeGree to a one-year contract and waiving linebacker Ronnie Thornton. LeGree was selected by the Seahawks in the fifth round of the 2011 draft and spent parts of his rookie season on the practice squads of the Cardinals, 49ers and Jets.
"He was a good football player at Appalachian State," Smith said. "I don't know a lot about him right now, but we have a need at the position. He was out there on the practice field today. We start evaluating him today."