After rallying to beat the Raiders on Robbie Gould's 49-yard field goal a week earlier, the Bears didn't fret even when they trailed 17-6 late in Sunday's game against the Chiefs.
"It gave us confidence," receiver Marquess Wilson said of the comeback win over Oakland. "When they gave us the ball back with three minutes left, we knew we could do what we did [against the Raiders]. That's the confidence we have."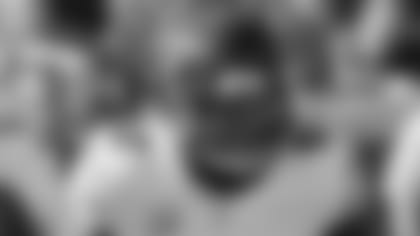 Outside linebacker Pernell McPhee


Sure enough, quarterback Jay Cutler tossed a pair of touchdown passes in the final 3:05, lifting the Bears to a dramatic and improbable 18-17 victory at Arrowhead Stadium.
"When we got here, everyone talked about confidence," said first-year coach John Fox. "When nothing good happens, it's hard to have confidence. It's what came first, the chicken or the egg? I think you just go about your business, you do it right and eventually it turns.
"Over the last couple of weeks, they've gotten to experience that. With that comes some confidence and belief and that can happen if you do the right things. Hopefully we can build on that."
Their head coach is a main reason the Bears didn't quit when they were down late in the game.
"Foxy always tells us 'don't flinch, don't blink,'" said right tackle Kyle Long. "Things are going to happen; that's the nature of the game. It's not going to be all uphill or downhill for us. You're going to have some tough spots throughout the game and you need to be able to survive the body blows and keep working."
Thanks to outside linebacker Pernell McPhee, that's exactly what the Bears did when the Chiefs opened the second half by marching to the Chicago 9, looking to extend their 17-3 lead.
"[McPhee] grabbed me and looked me in my eyes," Long said. "He's like, 'We're going to get this ball back. You just get your boys ready.' I was like, 'You heard the man. Get ready, guys. Stay loose. Pernell is going to get the ball back.'"
McPhee delivered on his promise, knifing through the Chiefs line and blocking Cairo Santos' 27-yard field goal attempt to keep the Bears within two scores.
"Once you have guys like that who are behind each other, we're not worried about a point-deficit of what we're down or what we're up," said veteran cornerback Tracy Porter. "We're just going to continue to play hard and continue to get the ball back for our offense as many times as they need it. And we'll let the play clock and the scoreboard take care of itself."
Asked how he knows a team is gaining confidence, Porter said: "When a team goes down 17-3 and we don't bat an eye. Like Kyle said, Pernell came in and said, 'We're going to get the ball back.'
"I told Pernell, 'We just have to keep grinding. We have to continue to get these three-and-outs. We have to get a turnover. But we're going to win this game. And he looked at me and said, 'I'm right with you.'"