During Vic Fangio's recent session with the media at training camp, the Bears defensive coordinator expressed excitement about outside linebacker Leonard Floyd's continued development.
The ninth pick in last year's draft showed flashes last season as a rookie, recording seven sacks in 12 games. But Floyd missed most of training camp with an illness and injuries to his shoulder and hamstring and then sat out four regular-season contests, two due to a calf injury and two after he suffered a pair of concussions.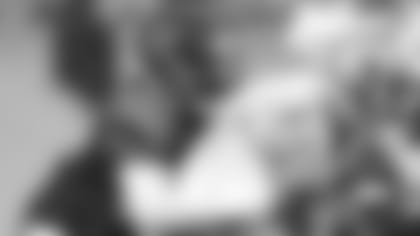 Bears outside linebacker Leonard Floyd sacks 49ers quarterback Blaine Gabbert in the end zone for a safety last year at Soldier Field.


A year later, Floyd is having an impressive camp. He's playing faster because he has a firmer grasp of the defense and he has yet to miss a practice.
"He's got really good potential," Fangio said. "I think he'll be a very good player for us and looked upon as a very good player in the league. If you're looking for statistical numbers, I can't put a finger on that. But he'll be a damn good player.
"It just shows up that he's able to build upon each day's work. He's had a good progression here up to date. I think he's getting better and better at the little things. The things he thought were kind of hard last year may [now] come easy for him."
Floyd recently told reporters that he's been putting in extra work to prepare for the season, something that he acknowledged he didn't do as a rookie.
"We want all our guys to pay attention to detail," Fangio said. "Details result in big things and he's doing a better job paying attention to details. A lot of those times when you're a rookie or young guy those details seem hard or unnecessary or hard to pick up. They need to become natural and he's on his way to that."
New position: Deiondre' Hall continues to make up for lost time. After missing eight games due to an ankle injury last year as a rookie, the 2016 fourth-round pick was moved from cornerback to safety during the offseason.
"He's learning the safety position," Fangio said. "It's new for him. He didn't do it at all last year. He did it a little bit in the spring. Coming off his injury he wasn't allowed to practice a whole lot. So he's behind in that process, but he does have some potential back there as a safety."
The Bears moved Hall to safety—a position he played early in his career at Northern Iowa before switching to cornerback—because of his range, ball skills and length.
Fangio is eager to see if Hall is up to the challenge. "As a safety, you've got to be a smooth operator," Fangio said. "You can't have mistakes. Learned back in Pee Wee football, somebody's dad told you you're the last line of defense. Well, it's true. You can't have mistakes back there.
"And we'll see how he tackles. Tackling as a safety is much different than tackling as a corner. As a corner, you're coming from outside in; at safety it's coming right at you a lot of times, so much different tackling. We'll see how he stands up when that happens."
Arrow pointing up: Fangio has been impressed with the progress that second-year defensive end Jonathan Bullard has been making in training camp.
After being selected in the third round of last year's draft out of Florida, Bullard did not make much of an impact as a rookie, registering 24 tackles and one sack in 14 games.
"He's doing better," Fangio said. "He's much more mature physically. He weighs, if you can believe it, almost a little bit too much, so his weight's not an issue. I think he's more mentally and emotionally ready for the rigors of playing in the NFL trenches against grown men. We're hopeful. I like where he's at now. I think his arrow's pointing up; we'll see how far it goes up."
On the rebound: Fangio is also pleased with nose tackle Eddie Goldman's progress, but the 2015 second-round pick still has room to improve after missing 10 games last year with an ankle injury.
"I think he's still coming back from where he was," Fangio said. "Last year in training camp and the first game or two prior to his injury, he was playing the best that we've seen him play. I don't see him quite back there yet, but he's close."
The Bears are hoping that Goldman reverts to the form he showed late in his rookie season in 2015 when he registered 10 tackles, three sacks and three tackles-for-loss in a three-game span. He played well in last year's opener as well, registering six tackles and half a sack against the Texans but injured his ankle a week later versus the Eagles.