The 1985 Bears captivated the nation with a collection of characters who dominated opponents and brought fun back to pro football.
That was never more evident than in their 46-10 thrashing of the New England Patriots in Super Bowl XX at the Louisiana Superdome, a monumental victory that occurred 30 years ago Tuesday.
The unstoppable Bears defense yielded just seven yards rushing, registered seven sacks and scored on an interception return and a safety.
"I tried to scramble, but there was no place to go," Patriots quarterback Tony Eason said after the rout. "They played an almost perfect game."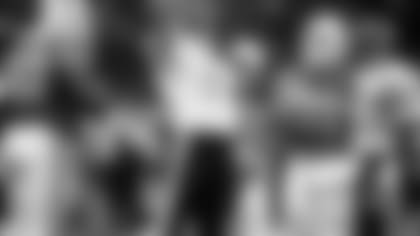 Dan Hampton celebrates as he recovered a fumble forced by Richard Dent.


It didn't start out that way for the Bears. Walter Payton fumbled on the second play from scrimmage and the Patriots recovered at the Chicago 19. After three incompletions, Tony Franklin's 36-yard field goal gave New England a 3-0 lead.
The Bears responded by scoring 44 unanswered points to set a record for the most lopsided victory in Super Bowl history.
The Patriots gained positive yards on just one of their first 16 plays. Eason was yanked in favor of veteran Steve Grogan after going 0 of 6 with three sacks. In the first half, New England had one first down, minus-five yards rushing and minus-14 yards passing.
"I'm not embarrassed," Patriots guard Ron Wooten said after the game. "I'm humiliated."
After Kevin Butler's 28-yard field goal tied the score 3-3, Richard Dent forced fumbles on consecutive possessions that Dan Hampton and Mike Singletary recovered, both at the New England 13.
The Bears converted the turnovers into Butler's 24-yard field goal and Matt Suhey's 11-yard touchdown run to take a 13-3 lead.
Jim McMahon's 24-yard pass to Suhey set up McMahon's 2-yard TD run that gave the Bears a 20-3 second-quarter lead. At that point, the Patriots still hadn't produced a first down. Butler's 25-yard field goal on the final play of the half made it 23-3.
William "Refrigerator" Perry spikes the ball after rushing for a touchdown.


The onslaught continued in the second half. After McMahon's 1-yard TD dive made it 30-3, Reggie Phillips returned an interception 28 yards for a score and William "Refrigerator" Perry thundered in from the 1 to widen the margin to 44-3.
At that point, NBC play-by-play announcer Dick Enberg said, 'If it was a prizefight, they'd have to stop it."
After a New England touchdown, Henry Waechter sacked Grogan in the end zone for a safety and the game's final points.
The Bears returned home as NFL champions for the first time since 1963.
"This is special," coach Mike Ditka said after the game. "We made history today. That's beautiful."
An all-time television record 127 million viewers tuned in to watch the Bears inflict carnage on the overmatched Patriots, some of whom had complained they weren't getting the proper respect in the days leading up to the game.
"They thought we felt superior to them," Bears safety Gary Fencik said after the lopsided victory. "I guess now they know why we had reason to believe it."