After a slow start, the Bears defense rebounded to play takeaway in the second half of Thursday night's preseason opener against the Dolphins at Soldier Field.
Trailing 10-3 at halftime, the Bears converted two interceptions and a fumble recovery into a touchdown and two field goals, fueling a 24-0 run that resulted in a 27-10 victory.
"We looked very sloppy, particularly early," said coach John Fox. "What I liked is the guys hung in there. They didn't blink. They kept fighting."
The defense generated the three takeaways on eight Miami plays. The first turnover came early in the third quarter when cornerback Sherrick McManis ripped the ball away from running back Mike Gillislee and recovered it at the Dolphins' 37.
The fumble led to Robbie Gould's 23-yard field goal, drawing the Bears to within 10-6. After the Dolphins went three-and-out, Gould's 21-yarder cut the deficit to 10-9.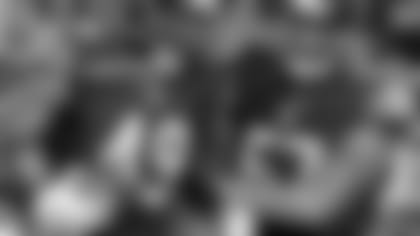 Sam Acho and John Timu both had interceptions.
On the next play, linebacker John Timu made a juggling interception at the Miami 26. Seven plays later, Ka'Deem Carey's 1-yard touchdown run on fourth-and-goal—coupled with Jimmy Clausen's two-point conversion pass to A.J. Cruz—gave the Bears a 17-10 lead.
Three snaps later, Sam Acho intercepted a McLeod Bethel-Thompson pass at the Miami 13 and returned it seven yards, setting up Gould's 27-yard field goal.
Running back Senorise Perry concluded the scoring with a 54-yard TD run with 3:57 remaining. Fittingly, safety Malcolm Bronson intercepted Josh Freeman's pass on the game's final play, allowing the Bears to win the turnover battle 4-0.
"Turnover ratio and ball security is critical in the game," Fox said. "I think that's what swung it for us. That was really the difference in the game."
The Bears' No. 1 defense opened the contest by allowing a 15-play, 85-yard touchdown drive that burned 8:01 off the clock. Ryan Tannehill completed 6 of 7 passes for 56 yards, including a 2-yard TD strike to receiver Jarvis Landry on fourth-and-goal.
"We misfit a run; it was for plus-27 [yards]," Fox said. "We weren't very crisp on third down; there were a couple conversions. We got called for a penalty to give them a first down on a third-down situation. So it wasn't as clean as we'd like, but the first preseason game with a new staff usually isn't."
Defensive end-turned-outside linebacker Jared Allen knows that learning a new 3-4 system remains a work in progress.
"You just have to trust the defense," Allen said. "You've got to trust the keys that you've got and go make plays. Football is about process; how fast can you process the information so that you can go and apply the football knowledge and football talent to it. That's what it comes down to. We'll just keep working on that process."
Allen and most of the Bears' No. 1 defense were replaced by reserves after Miami's opening possession Thursday night.
Offensively, the Bears followed a three-and-out with a 12-play, 61-yard drive capped by Gould's 48-yard field goal, which cut the deficit to 7-3 early in the second quarter.
Playing two series, Jay Cutler completed 4 of 7 passes for 42 yards with no touchdowns, interceptions or sacks and a 74.7 passer rating.
The Bears rested running back Kyle Long and also played with two of their top receivers. Alshon Jeffery sat out with a strained calf he suffered in Tuesday's practice and rookie Kevin White remains sidelined with a shin injury.
The Bears rushed for 166 yards on 33 carries behind Perry (10-89), Ka'Deem Carey (7-34) and Jacquizz Rodgers (7-33), who started in place of Forte.
Backup quarterback Jimmy Clausen performed well in relief of Cutler, completing 17 of 27 passes for 151 yards with no TDs or interceptions, one sack and a 77.9 passer rating.