The following is the third of eight position previews in advance of the April 25-27 NFL Draft.
Justin Hunter and Cordarrelle Patterson were teammates at Tennessee, but that's not all they have in common. Both are among the top wide receivers in the upcoming NFL Draft.
Hunter missed the last nine games of the 2011 season with a torn ACL, but then he rebounded last year as a junior to catch 73 passes for 1,083 yards and nine touchdowns.
Also entering the draft as a junior, Patterson caught 46 passes for 778 yards and five touchdowns last season in his only year at Tennessee. The 6-2, 216-pounder had played the previous two seasons at Hutchinson Community College in Kansas.
Patterson led the SEC in all-purpose yards with 1,858 last year, which included 308 yards on 25 rushes, 671 yards on 24 kickoff returns and 101 yards on four punt returns. He rushed for three TDs and also scored on a 98-yard kickoff return against Mississippi State.
ESPN's Mel Kiper Jr. ranks Patterson as the 22nd best prospect in the draft, and second among receivers behind West Virginia's Tavon Austin (15th).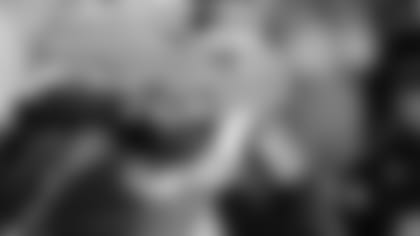 Cordarrelle Patterson led the SEC in all-purpose yards last year in his only season at Tennessee.

"There's a lot of projection because [Patterson] really needs to clean up his route running," Kiper writes, "but if teams are looking for a potential matchup nightmare, Patterson has the kinds of tools you look for. He'll high-point the ball, fight for it and create big plays after the catch, and he has good physical size to take hits."

Austin was a three-year starter at West Virginia, where he caught 288 passes for 3,413 yards and 29 TDs while appearing in 52 games with 38 starts over four seasons. Last season the dynamic 5-81/2, 174-pounder established career highs with 114 receptions, 1,289 yards and 12 touchdowns.

Kiper describes Austin as "simply a big play waiting to happen."

"Here's the elite burst and short-area quickness that teams want out of a high-impact slot receiver," Kiper writes. "Austin also has great hands. His value was a question because, at his size, he's limited outside the slot. But his excellent vision, space-creating skills and ability to shift gears and vary speeds-and simply run away-to stay uncovered are the best in this draft class."

Another top receiver in the draft is Keenan Allen. The 6-2, 206-pounder had 205 receptions for 2,570 yards and 17 TDs while playing in 33 games with 29 starts over three seasons at California. His most productive season was in 2011 when he caught 98 passes for 1,343 yards and six TDs.

PFW describes Allen as "a big, smooth, dependable West Coast target with versatility who should become a productive No. 2 receiver in the pros."

Other top receivers include Clemson's DeAndre Hopkins, Louisiana Tech's Quinton Patton, Baylor's Terrance Williams and USC's Robert Woods.

After catching 72 passes for 978 yards and five TDs as a sophomore in 2011, Hopkins increased his production last year with 82 receptions for 1,405 yards and an ACC-record 18 TDs. The 6-1, 214-pounder caught 13 passes for 191 yards and two TDs against LSU in the Chick-fil-A Bowl.

PFW sees Hopkins as "a competitive, savvy, instinctive receiver who should be a dependable No. 2 or No. 3, short-intermediate target in the pros."

Patton transferred from Coffeyville Community College in Kansas to Louisiana Tech, where he caught 183 passes for 2,594 yards and 24 TDs in 25 starts over two seasons. The 6-foot, 204-pounder is strong and tough, but does not always run precise pass routes.

Williams had an impressive season last year at Baylor, catching 97 passes for 1,832 yards and 12 TDs even though star quarterback Robert Griffin III had departed for the NFL.

PFW describes the 6-2, 208-pounder as a "sleek-bodied, high cut, highly productive 'X' receiver who isn't an elite burner, but moves fluidly, gets vertical and makes difficult catches look routine."

Woods leaves USC as the school's all-time leader with 252 receptions. The 6-foot, 201-pounder's best season was as a sophomore in 2011 when he caught 111 passes for 1,292 yards and 15 TDs.

PFW calls Woods a "sleek, fluid, versatile receiver with a mixture of playmaking ability and possession skills."