Receiver Deonte Thompson made several catches in Thursday's practice, highlighted by a long touchdown reception from quarterback Brian Hoyer down the right sideline.
The speedy Thompson, who ran track at Florida, provided a boost on special teams late last season, averaging 29.2 yards on 14 kickoff returns with a long of 74 yards in the final seven games. He also caught two passes for 81 yards, including a 45-yarder in the season finale against the Lions.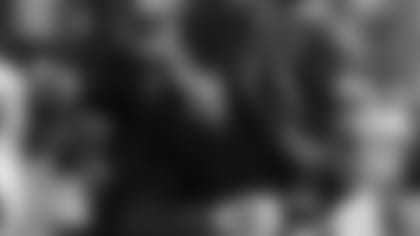 Deonte Thompson's 29.2-yard average last year was second in the NFL among players with at least 10 kickoff returns.


Thompson's 29.2-yard average last year was second in the NFL among players with at least 10 kickoff returns, trailing only the Vikings' Cordarrelle Patterson (31.8).
"He came in new to us, started off as a return guy and then slowly progressed as far as learning the offense and made some plays," said coach John Fox. "We have a lot of confidence in him and he continues to get better on offense as a receiver."
Thompson was signed to the Bears practice squad last Sept. 22 and elevated to the 53-man roster Nov. 10. He arrived after appearing in 14 games over three seasons with the Ravens (2012-13) and Bills (2014), catching 15 passes for 147 yards and averaging 26.8 yards on 22 kickoff returns.
In training camp, Thompson is trying to prove that he deserves a spot on the 53-man roster now only as a return specialist but as a receiver.
"He's not thinking near as much as he was a year ago," Fox said, "and through all the offseason and even so far in camp, I've seen really steady progress."
Health news
Thompson took some reps with the first-team offense in part because receiver Alshon Jeffery was held out of practice with a mild hamstring injury.
Asked whether Jeffery's absence was a concern after he missed seven games with injuries last season, Fox said: "We get concerned about everybody whether they're injured or not practicing. But on the other hand we don't get too concerned. We've got guys to take their place. We've got numbers. We're at 89 now. So it's part of camp."
There was good news on the injury front as right guard Kyle Long participated in team drills after being limited in Wednesday's practice in his return from a calf injury.
"I thought he made it through pretty well," Fox said. "I haven't seen the tape yet, but he did more than he did yesterday and that's how you bring back guys that are coming off [injuries]."
Offensive lineman Amini Silatolu practiced for the first time after being removed from the physically unable to perform list. The 6-4, 320-pounder, who signed with the Bears July 20, is recovering from a torn ACL he sustained last season while playing for the Panthers.
Silatolu was selected by Carolina in the second round of the 2012 draft out of Midwestern State. He appeared in 34 games with 28 starts over four seasons with the Panthers.
In the trenches
The Bears concluded Thursday's practice with a spirited goal-line drill that featured live tackling. The defense outperformed the offense, with Harold Jones-Quartey stopping Jeremy Langford, and Eddie Goldman and Sam Acho stuffing Jacquizz Rodgers on separate plays.
The Bears ran the drill exactly one week before their preseason opener against the Broncos at Soldier Field.
"Let's not forget, we're trying to get ready for live football," Fox said. "So the more live-ball situations you can experience and evaluate, in my career that's been a very important factor in being a good football team and a championship football team."
Rookie running back Jordan Howard eventually scored an apparent touchdown, but it was nullified by a holding penalty against newly-signed fullback Darrel Young. Defensive coordinator Vic Fangio picked up the flag and waved it over his head.
But Fangio's celebration was short-lived as defensive back Jacoby Glenn was whistled for holding on the next play, wiping out an incomplete pass. That gave the offense one final snap to get into the end zone and fullback Paul Lasike did just that, bulling over the goal line.