Bears cornerback Charles Tillman and defensive ends Julius Peppers and Shea McClellin were presented with 2012 Brian Piccolo Awards during a ceremony Tuesday at Halas Hall.
The honor has been given to a Bears rookie since 1970 and was expanded in 1992 to include a veteran. Bears players vote for teammates who best exemplify the courage, loyalty, teamwork, dedication and sense of humor of Brian Piccolo, a Bears running back who died from embryonal cell carcinoma on June 16, 1970 at the age 26.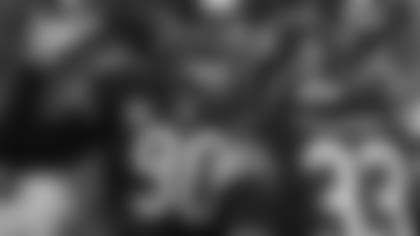 Julius Peppers (90) and Charles Tillman were both awarded Brian Piccolo Awards on Tuesday.
Tillman and Peppers were selected as co-winners of the veteran award. Both were voted to the Pro Bowl after helping the Bears lead the NFL with 44 takeaways and nine defensive touchdowns.

Tillman previously won the award in 2003 as a rookie and again in 2008.

"I was surprised that I got it a third time," he said. "With that being said, my teammates think highly of me and I really respect and value their opinion because I'm with these guys every day. We're working and we're fighting to try to get a championship here and bring one back to Chicago, and for my teammates to think that I deserve this award, that's what really means the most to me."

In 2012, Tillman was selected to his second straight Pro Bowl after returning all three of his interceptions for touchdowns and forcing a career-high 10 fumbles, tying for the most by any player since the NFL started tracking the statistic in 1991.

Tillman thanked the McCaskey and Piccolo families as well as former Bears coach Lovie Smith, former defensive coordinator Rod Marinelli and defensive backs coach Jon Hoke, who presented him the award Tuesday in the George "Mugs" Halas Auditorium.

Tillman said he doesn't think anything he's accomplished on the field would have been possible "without those three men pushing me to my maximum capacity as a player."

"I don't feel like this is a job for me," Tillman said. "I just go out there and I try to have fun at a sport I love. I just like the game of football. I really do think it's fun. I love this team. I love my teammates. I love this organization. It's been very generous to myself and my family."

In presenting a Piccolo Award to Peppers, new Bears defensive coordinator Mel Tucker lauded the 12-year veteran's leadership skills and work ethic.

"Actions speak louder than words with him," Tucker said. "He is a quiet leader that leads by example, which is really the best type of leader to have, especially in the game of football. He's highly respected by his teammates, his coaches and everyone in the NFL. The respect that people have for him really comes from his work ethic on and off the field."

In 2012, Peppers recorded 11.5 sacks to become the first Bears player to register at least 11 sacks in back-to-back seasons since Hall of Famer Richard Dent in 1986-87.

"It's an honor to be sitting up here accepting this award," Peppers said, "not only because of the namesake and what that represents by itself but because it was voted on by my teammates who I respect so much and whose opinions I value so highly.

"It's humbling and it's a privilege to have my name added to the list of recipients who've already claimed this award. If you and go and look at that list, you see a great group of football players, but more importantly you see a great group of people on that list. So it's really a special accomplishment to have my name added to that list.

"As I learn more about Mr. Piccolo, the teamwork, the loyalty and the dedication and the friendship was something that resonated with me. I think that's something that we all can strive for in our career and also in our personal life-that along with his commitment to the people that were around him. One day I can only hope to be viewed in that same light."

McClellin won the rookie award after showing promise as a pass rush specialist in 2012, when he recorded 14 quarterback pressures and 2.5 sacks while appearing in 14 games.

"I just want to thank [general manager] Phil Emery and all the coaches for giving me the opportunity to be in this position, and I want to thank all the players for voting for me for this," said McClellin, who was selected by the Bears with the 19th pick in last year's draft.

Brian Piccolo joined the Bears in 1965 as an undrafted free agent after leading the nation with 111 points and 1,044 yards rushing as a senior at Wake Forest. He was in his fourth NFL season when a chest x-ray revealed a malignancy. Piccolo passed away several months later.

When Piccolo died, the disease was 100 percent fatal. But today, thanks in part to the millions of dollars raised by the Brian Piccolo Cancer Research Fund, the cure rate is more than 90 percent.

Proceeds from the organization currently benefit breast cancer research at Rush University Medical Center and the Clearbrook Center for the developmentally disabled in Rolling Meadows. The fund has raised more than $8.2 million since 1991.