Bears legends Richard Dent, Dan Hampton and Gale Sayers are set to be among 100 Pro Football Hall of Famers in attendance at the first-ever Hall of Fame Fan Fest May 3-4 in Cleveland.
The event at Cleveland's International Exposition Center will include more than one million square feet of interactive exhibits. It will feature memorabilia from the Hall of Famers' playing days and football clinics with the legends on a full-size 100-yard indoor field demonstrating and instructing how they played the game.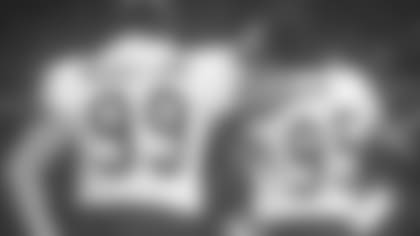 Hall of Fame defensive linemen Dan Hampton and Richard Dent were Bears teammates from 1983-90.
The Fan Fest will also include "chalk talks" with the Hall of Famers previewing the May 8-10 NFL Draft, round-table discussions with the Hall of Famers talking about their teams and careers, and interactive games such as "Touchdown Run," "Mini-Combine" and "Quarterback Challenge."
Fans will also be given the opportunity to bring their own sports memorabilia for appraisal and the chance to have items in a live auction.
"Pro Football and the American Spirit" will be a 2,400-square-foot tribute to the more than 1,200 NFL players who delayed or interrupted their pro football careers to serve their country as members of the U.S. Armed Forces during times of military conflicts. The gripping exhibit features stirring film footage and rare artifacts from players, including many Hall of Famers, from their playing days and military careers
Each day, several different Hall of Famers' iconic Bronze Busts, rarely seen outside of the Hall of Fame, will be on display. Fans will have a rare opportunity to be photographed among the bronzed likenesses of some of the game's true legends.
There will be four separate shows that make-up the two-day Pro Football Hall of Fame Fan Fest with sessions from 10 a.m.-3 p.m. and 4-9 p.m. on both Saturday and Sunday.
The three Bears Hall of Famers slated to be on hand are all scheduled to appear on Saturday, with Dent in the first timeslot and Hampton and Sayers in the second.
Each day will offer eight autograph sessions, each with 6-7 different Hall of Famers, and fans that attend all of them will have the opportunity to collect all 100 Hall of Famer signatures. Limited Autograph Session tickets can be purchased for an additional cost and go on sale Feb. 28 at 8 a.m. (CT). General Admission does not include admittance to Autograph Sessions.