In the latest edition of the "Bears Confidential" video series, offensive coordinator Mike Tice discusses his relationship with Jay Cutler and their pursuit of a Super Bowl championship.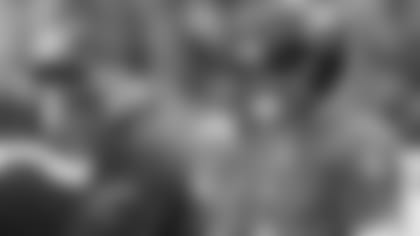 Mike Tice and quarterback Jay Cutler share a laugh on the sideline last season at Soldier Field.
Asked by play-by-play announcer Jeff Joniak to describe the Bears quarterback, Tice says: "Very smart. Very competitive. Can make all the throws. Cannon arm."
Cutler has been criticized by some outside Halas Hall this season for yelling at and bumping teammate J'Marcus Webb on the sideline in Green Bay, and walking away from Tice after the offensive coordinator had sat next to him on the bench in Dallas.
But Tice has no problem at all with the quarterback.
"I like the brashness about him," Tice said. "I like the fact that when things aren't going right, he's going to voice his opinion. It doesn't mean he's always right. But I like that part of Jay Cutler. I like working with Jay Cutler. I'm anxious to see him and ride him and ride our receivers and our backs and that offensive line to the Super Bowl."
Tice has spent 31 seasons in the NFL as a player, assistant coach and head coach with five different organizations, and is still seeking his first Super Bowl championship.
"I have one hole in my chest," Tice said. "I've been in this league for over 30 years and I've never won a Super Bowl ring. Who knows what Mike Tice will do if we win the Super Bowl this year? Eighty-eight and out the gate, see you later alligator. I'm going home and smoking cigars."