Charles Tillman reiterated Friday that he has had discussions with the Bears about a new contract, but the two-time Pro Bowl cornerback is not sure whether he will remain with the team.
"I really in all honesty think it's too early to tell," Tillman said during an appearance on "The Mully and Hanley Show" on WSCR-AM 670 in New York at the site of the Super Bowl. "I'm not really worried about it."
Tillman is slated to become an unrestricted free agent March 11.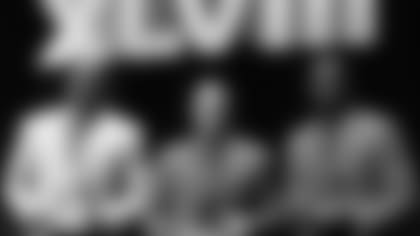 Charles Tillman (far right) poses with fellow Man of the Year Award finalists Thomas Davis and Jay Feely Friday in New York.
"All I can say is there is no bad blood between myself and the Bears," he said. "I just saw Mrs. McCaskey, talked to her, nice person, great lady, great organization. There's no bad blood between myself and the Bears. We're all on great terms, doors are open."
Tillman also clarified comments he had made Wednesday night on the same radio station when he said: "In a perfect world, I will finish as a Bear. I guarantee I will retire as a Chicago Bear."
While some assumed those words meant that he would re-sign with the Bears no matter what, Tillman explained that he was saying if he does join another team he would like to sign a one-day contract and officially retire as a member of the Bears when his playing career ends.
Tillman is in New York because he's one of three finalists for the 2013 Walter Payton Man of the Year Award. The prestigious award is the only league honor that recognizes a player's community service as well as his playing excellence.
The other two finalists are Carolina Panthers linebacker Thomas Davis and Arizona Cardinals kicker Jay Feely. The winner will be announced Saturday night in New York during the NFL Honors primetime awards special on FOX.
Since Tillman created the Cornerstone Foundation in 2005, his efforts have impacted over one million Chicago-area children and raised more than $1 million.
"I think the nomination is great," Tillman said. "It just goes to show that hard work pays off. Really I'm honored. I'm humbled by those people recognizing what I do in my free time. But I don't think I deserve an award for that. I think that's what you're supposed to do as human beings. Myself, my platform, I try to use it for something positive.
"What I get out of it is helping somebody else, and if you've never done it, you should try because it's an amazing feeling, the feeling you get when you help somebody. And it's not a financial help. It's just going to say hi, hanging out with the person, just talking to that person. You might not think it's big, but that person will remember it for the rest of their lives."