Charles Tillman has been rewarded for his performance in Monday night's 13-7 win over the Lions by being selected the NFC defensive player of the week for the second straight game.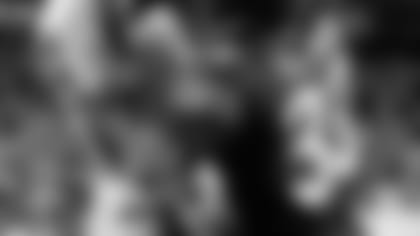 Charles Tillman breaks up a pass in the end zone during Monday night's win over the Lions.
The Bears cornerback did a masterful job of containing Pro Bowl receiver Calvin Johnson. The Lions star was targeted 11 times, but he caught only three passes for a season-low 34 yards. Tillman also forced tight end Brandon Pettigrew to fumble twice.
With the Bears leading 13-0 midway through the third quarter, Tillman broke up a pass in the end zone intended for Johnson on first-and-goal at the 1. On the next play, Henry Melton forced running back Joique Bell to fumble, and Brian Urlacher recovered the loose ball.
Asked about Tillman winning the weekly award without registering an interception, coach Lovie Smith said: "I will just say it is hard to do and that says how special that performance was, which it was by Charles. He's an excellent football player. He does so much time after time. He's a consistently good football player for us, and I'm glad others took note."
Tillman also won NFC defensive player of the week honors in the Bears' previous game after returning an interception 36 yards for a touchdown in a 41-3 win in Jacksonville.
In that contest, Tillman and Lance Briggs became the first teammates in NFL history to return interceptions for touchdowns in back-to-back games, and helped the Bears become the first team in league history to bring back five interceptions for TDs in the first five games of a season.
Asked about Tillman playing his best football at the age of 31, Smith said: "A lot has been said about this 'over-the-hill' gang that we have. I just know that last year Charles went to the Pro Bowl and he had a career year. I just know he's a good football player right now and he works extremely hard to take care of his body. The guy has less than four percent body fat."
Tillman was selected to his first Pro Bowl last year when he returned two of three interceptions for TDs and recorded 113 tackles, 13 pass breakups, four forced fumbles and two fumble recoveries.
In six games this season, he has returned two interceptions for touchdowns and registered 31 tackles, two pass breakups, three forced fumbles and one fumble recovery.
Tillman owns the Bears' all-time record with eight defensive touchdowns and his 32 career interceptions are tied with Donnell Woolford for the most by a cornerback in franchise history. In addition, Tillman's 32 forced fumbles are the most by an NFL defensive back since he entered the league in 2003.
Tillman has now won three defensive player of the week awards in his career, the third most among Bears players behind Hall of Famer Richard Dent (6) and Urlacher (5).
"If you don't have athletic ability, you don't have a chance," Smith said. "From there it's experience, know-how, working hard and just constantly improving your craft, your trade. All those things are what Charles Tillman is about."
Having battled Tillman on the practice field since the offseason program began in April, Bears receiver Brandon Marshall wasn't surprised with how the cornerback fared against Johnson.
"When you see Charles work, it's like art," Marshall said. "The way he played the fades in the red zone, just his body position on certain routes, breaking up slants, it was just art in the making.
"I'm glad that I get a chance to work against him every single day because he makes me better. Those plays against Calvin in the red zone, I hate running fades against him because that's what he does. He's consistent and he works at it. Charles is special and I'm glad to be his teammate."