Calvin Johnson was too busy playing football Monday night to watch the Presidential debate. But the Lions receiver probably already knows who he's going to vote for—at least for the Pro Bowl.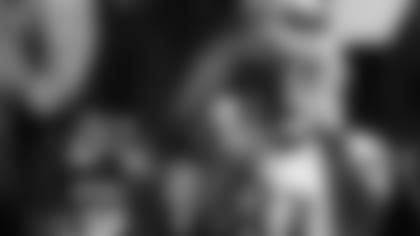 Bears CB Charles Tillman limited Lions WR Calvin Johnson to 34 yards on 3 receptions.
Shadowing the Detroit star all over the field, cornerback Charles Tillman held Johnson to just three receptions for a season-low 34 yards in the Bears' 13-7 win at Soldier Field.
"Calvin is one of the best players in the league," said coach Lovie Smith. "It's hard for Detroit to win games without him being productive. That's why you need a guy like Charles Tillman that can match up on him. It made them look at other ways to get the ball down the field. That's going to lead us to a win most of the time if we can get that effort out of Charles."
Tillman broke up a slant pass intended for Johnson on the game's first play from scrimmage. Two snaps later, a wide open Johnson dropped a perfect pass from Matthew Stafford over the middle. Johnson didn't make his first reception until midway through the third quarter.
"Calvin Johnson is a big, big time receiver," said middle linebacker Brian Urlacher. "Peanut is a big-time corner. I don't know how he does it, but I'm glad he does it. I'm glad he plays for us."
Playing takeaway: The Bears lead the NFL with 21 takeaways after recovering three fumbles and recording one interception. They've generated 14 takeaways during their four-game winning streak.
"We stress it in practice every day," said defensive end Julius Peppers, who recovered a Mikel Leshoure fumble that Lance Briggs forced late in the first half. "We practice it, so when we get on the field it's natural for us. We do it all day, every day. When we get out there it happens.
Tillman forced two Brandon Pettigrew fumbles, but the ball bounced out of bounds both times. Tillman has now forced 32 fumbles in his career, the most by an NFL defensive back since he entered the league in 2003 as a second-round draft pick.
Quite a streak: Before Stafford's 12-yard touchdown pass to Ryan Broyles with :30 remaining, the Bears had outscored the Lions and Jaguars 51-0 dating back to halftime of their previous game in Jacksonville.
Just for openers: With Jay Cutler's seven-yard touchdown pass to Brandon Marshall, the Bears scored a touchdown on their first possession of a game since last Nov. 13 against the Lions when Matt Forte's six-yard TD run gave the Bears a 7-0 lead en route to a 37-13 win.
Good start: The Bears defense still hasn't allowed any points in the first quarter this season. The only points the team has yielded in the opening period came in the opener when Colts linebacker Jerrell Freeman intercepted a Cutler pass and returned it three yards for a touchdown.
First miss: After making his first 11 field goal attempts of the season—including a 39-yarder late in the first quarter—Robbie Gould's first miss came midway through the second quarter when his 47-yard try was deflected by the Lions' Lawrence Jackson.
Prime-time players: Since Smith became coach in 2004, the Bears are now 9-2 on Monday Night Football, including 4-0 at Soldier Field. With wins over the Cowboys and Lions, they're 2-0 this season with one Monday night game remaining, Nov. 19 in San Francisco.
The series: The Bears have now won eight of their last nine meetings with Detroit and lead the all-time series 95-65-5. Their 95 wins are their most against any NFL opponent. The Bears have now won seven of their last eight games over the Lions in Chicago, including five straight.
Moving up: In completing 16 passes for 150 yards, Cutler moved into fourth place on the Bears' all-time list in both categories. With 885 completions, Cutler trails Jim Harbaugh (1,023), Erik Kramer (913) and Hall of Famer Sid Luckman (904). With 10,618 yards, Cutler is behind Luckman (14,686), Harbaugh (11,567) and McMahon (11,203).