When the Bears placed Charles Tillman on injured reserve with the designation to return Nov. 11, they hoped he could come back for the playoffs if they earned a post-season berth.
But on Monday, coach Marc Trestman revealed that the torn right triceps Tillman sustained Nov. 10 in a loss to the Lions will sideline him for the remainder of the season, playoffs included.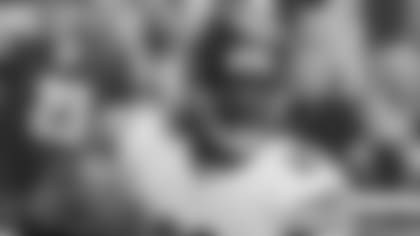 Charles Tillman holds the Bears record with nine defensive touchdowns.
"He's not going to be available to practice for the rest of the season because he's not far enough in his recovery to do that," Trestman said.
Prior to this year, Tillman had missed only six games in the previous eight seasons. He sat out a win over the Giants Oct. 10, snapping a streak of 53 consecutive games played.
Since arriving in 2003 as a second-round draft pick, Tillman has established Bears records for most defensive touchdowns (9), interception return TDs (8) and interception return yards (675).
His 36 interceptions are third most in team history behind Gary Fencik (38) and Richie Petitbon (37) and Tillman's 42 forced fumbles are the most by any NFL player since he entered the league.
Tillman, who is in the final year of his contract, has been replaced in the starting lineup by Zack Bowman. The sixth-year pro had the first two-interception game of his career in Sunday's 38-31 win over the Browns, returning one pick 43 yards for a touchdown.
The injury news was better Monday for Lance Briggs, who has missed the last seven games with a fractured shoulder suffered Oct. 20 in a loss in Washington. Trestman said that he's "reasonably optimistic" the veteran linebacker will return Sunday when the Bears visit the Eagles.
Briggs officially remains day-to-day. He's expected to practice this week with the decision about whether he will play in Philadelphia likely coming on Friday.