NASHVILLE, Tenn. — Charles Tillman and the opportunistic Bears defense made sure that no football was safe in the hands of a Tennessee Titans player Sunday in Nashville.
The Pro Bowl cornerback enhanced his reputation as the NFL's best ball-stripper by forcing a career-high four fumbles-three of which the Bears recovered-in a 51-20 blowout victory. He now has forced 36 fumbles, the most by a defensive back since he entered the league in 2003.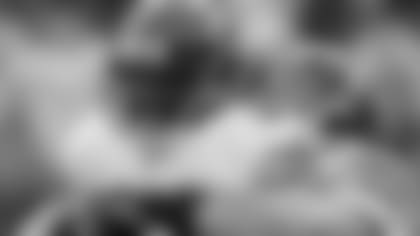 Charles Tillman gets a celebratory lift from Brian Urlacher after forcing one of four fumbles in Sunday's win in Tennessee.
"I don't think it's difficult," Tillman said after the Bears extended their winning streak to six. "It's always on my mind. I'm very conscious of it. I speak it, I believe it, I practice it, and it happens."
One week after the Bears (7-1) struggled for three and half quarters before rallying to beat the Carolina Panthers, Tillman heeded coach Lovie Smith's advice.
"This week our whole model was, 'Hey, let's start fast. Let's create a turnover on the first play of the game,'" Tillman said. "That was just the mindset going into the game."
Tillman accomplished the objective by stripping the ball from Titans receiver Kenny Britt after a 23-yard reception on the first play from scrimmage. Brian Urlacher recovered at the Tennessee 46.
"For a coach to be able to watch a special trade that he has ... just the ability to knock the ball out is hard and it kind of set the tone for our football team right away," Smith said.
"He does what he does," Urlacher said. "He ran to the football. We had some guys down there and he knocked it out. Anytime he's around the football, you better bet guys on defense are running to the football because you know something good is going to happen for us."
Urlacher produced something good late in the first quarter when he returned an interception 46 yards for a touchdown to give the Bears a 21-2 lead.
"I know Brian was in great position for it," Smith said. "It was zone coverage for us. When you get pressure, the quarterback's getting rid of the ball and that's your mindset, those things happen.
It was the seventh interception return for the Bears defense this season, but the first for Urlacher.
"I was so happy for him," Tillman said. "He [said], 'It would be nice to get a touchdown.' I said, 'Hey, call it man. The tongue has the power of life and death. Call it. Say it. Speak it. Believe it.' And he did. And he got in the end zone. It was a good play on his part. He had to dodge a lot of people. Our whole model on defense is scoring. We practice it every single day."
During the Bears' six game winning streak, the defense has scored seven TDs and allowed only six. Asked whether this defense is the best he's ever coached, Smith said: "It's a little early for that.
"We like where we're at right now. I know this defense is doing some things that no other defense has done that I've been a part of, scoring touchdowns and the amount of takeaways we've been able to get. That is special that we have going at the halfway point."
Tillman is convinced that a Bears defense that is already elite can keep improving.
"If we continue to practice hard, yeah, why not?" he said. "The sky's the limit. Each week we do want to get better. Our goal isn't to peak right at Week 8. We want to keep peaking each week. We don't want to level off. Once we start to level off, we'll lower our standards.
"The sky's the limit and we're going to keep doing what we can do. Keep playing hard. Do the ordinary things better than everybody else. I don't think our scheme is hard. We're not trying to out-scheme anybody. We just do the ordinary things better than everybody else. Our goal is just to outplay the opponent."