The Copperas Cove High School football team will be wearing new helmets next season thanks to one of the most successful players the program has ever produced.
Cornerback Charles Tillman will donate a $3,000 equipment grant to his alma mater's football team through USA Football, the official youth football development partner of the Bears and the NFL.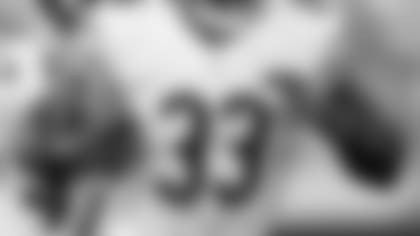 Bears cornerback Charles Tillman returned all three of his interceptions for touchdowns in 2012.
USA Football named Tillman to its 2012 All-Fundamentals Team in January, honoring 26 NFL players who employ proper technique, particularly when blocking and tackling, which fosters inherent safety benefits and better on-field performance.

By being named a team captain through a national fan vote, Tillman received an equipment grant valued at $3,000 from USA Football to donate to the youth or high school football program of his choice. Tillman will award his grant to Copperas Cove, his alma mater in Texas.

"Charles Tillman is a champion in the eyes of not only all Chicago Bears fans but the entire central Texas community," said Jack Welch, Copperas Cove director of athletics and head football coach. "He is a champion for students and always lends a hand to assist our football program.

"By Charles helping Copperas Cove High School football players obtain new football helmets shows that he understands the impact this grant has for our school and budget. It is refreshing to see All-Star players giving back to their communities and being a positive role model for our children."

Tillman played for Welch at Copperas Cove and is convinced that the experience helped prepare him to excel at Louisiana Lafayette.

"They have a real good system," Tillman said. "The coaching staff runs high school like college from a football standpoint. So when I got to college I was four years ahead of the game. [At Copperas Cove] I used to watch film and learned how to watch film.

"I had already done that for four years in high school, so it wasn't [an adjustment] in college. Our coaching staff [at Copperas Cove] prepared me for that."

Growing up on the Fort Hood military base, Tillman enjoyed attending Copperas Cove.

"I love the diversity of the high school, being that it is a military base," he said. "I got a chance to grow up with a lot of different nationalities and religions. I think that diversity is rare, and I really appreciate that. It's just a great town, a great area and a good place to raise a kid."

Tillman was selected to the All-Fundamentals Team after being selected to his second straight Pro Bowl. In 2012, he topped the NFL with a career-high 10 forced fumbles and tied for the league lead with three interception return touchdowns, sparking wins in Dallas, Jacksonville and Arizona.