Bears Pro Bowl defenders Charles Tillman and Julius Peppers are both listed as probable on the injury report and expected to play Sunday against the Minnesota Vikings at Soldier Field.
Tillman practiced without restrictions Friday after being limited Wednesday with a sore knee and then being excused from Thursday's workout due to a family issue.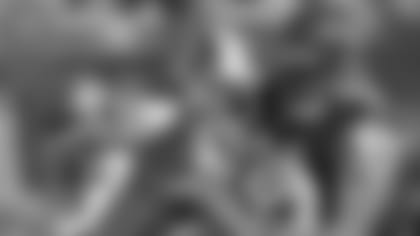 Charles Tillman and Julius Peppers have both been voted to the Pro Bowl each of the last two seasons.
Tillman had two interceptions in last Sunday's season-opening win over the Bengals, one of which he returned 41 yards. The play enabled the 11-year veteran to set a Bears career record with 647 yards on interception returns, eclipsing Richie Petitbon's mark of 643.
Peppers was sent home with flu-like symptoms including a fever Thursday and was limited in practice Friday. But the 12-year NFL veteran is expected to start against the Vikings.
All seven players on Minnesota's injury report are listed as probable, which means there's a 75 percent chance they'll play. The group consists of linebackers Larry Dean (shoulder) and Erin Henderson (heel), tackle Phil Loadholt (knee), safety Mistral Raymond (shoulder), cornerback Josh Robinson (quadriceps), center John Sullivan (knee) and defensive tackle Kevin Williams (knee).
Limited opportunities: Devin Hester only had three touches in last Sunday's season-opening win over the Bengals as Mike Nugent recorded three touchbacks on four kickoffs and Kevin Huber booted two of four punts out of bounds.
"It's not going to be like that all year, especially in [Chicago] with the way the weather is," said special teams coordinator Joe DeCamillis. "When it gets colder, we'll probably get more returns in a lot of places. So I'm looking forward to that time, that's for sure."
Hester's only kickoff return was a 31-yarder that he caught at the goal line.
"I blinked my eyes and all of a sudden I was like, 'Wow, he's at the 31,'" DeCamillis said. "He's still got the speed, no question. On  punt return, we knew going into that game it was going to be a hard one because of [Huber]. That guy is one of the better punters in the league right now, and he showed it on Sunday. He put us into the sideline, put some balls out of bounds. Hopefully down the road we'll get more opportunities with the guys that we're playing."
No concern: The Bears will host the Vikings Sunday less than 24 hours after Illinois faces Washington Saturday night at Soldier Field. But coach Marc Trestman said he's spoken with Bears head groundskeeper Ken Mrock and is not worried about the field conditions.
"I've talked to Ken about it and they'll do a good job cleaning up the field for the game," Trestman said Friday after practice.
The weather forecast calls for a 30 percent chance of rain Sunday in Chicago.
"I'm not concerned about it," Trestman said. "We have no control over the weather. We played in some mud in training camp, so our guys have been on that kind of a field. These guys have played on it a lot more than I have. But I don't think the field conditions are going to dramatically impact either team to where any team's going to have an advantage."
Rookie on the rise: Right guard Kyle Long gets more publicity, probably because he's a first-round pick. But fellow rookie starting offensive lineman Jordan Mills has been just as impressive. The fifth-round pick won the right tackle job in training camp and has continued to ascend.
"I think there has been change," Trestman said. "His technique has improved dramatically. He's got certainly the temperament to play the position. He is a calm guy. He's got the physical attributes. He's got long arms, great balance. He can bend his knees.
"There are a lot of little things he is doing better because Aaron [Kromer] spent the time giving him the fundamentals and techniques to do it. He is growing at a pretty fast pace."