Bears cornerback Kyle Fuller will miss the rest of the season after being placed on injured reserve with a torn right triceps he sustained in Sunday night's win over the 49ers.
Tillman suffered the injury in the third quarter while being blocked by receiver Michael Crabtree as quarterback Colin Kaepernick ran toward the Bears sideline. Tillman bent over and grabbed his arm and later was captured by TV cameras with tears streaming down his face on the bench.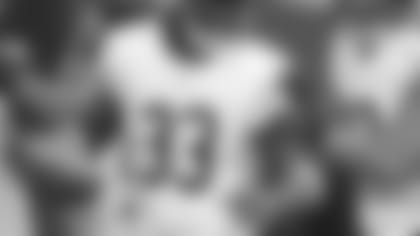 Bears cornerback Charles Tillman is the Bears' all-time leader with nine defensive touchdowns.

Tillman sat out the final seven games last season after suffering the same exact injury last Nov. 10 in a loss to the Lions. Prior to last season, he had missed only seven games the previous nine years.

"I appreciate the kind words of encouragement and support from all the Bears fans who have reached out to me," Tillman said in a statement released by the team.

"I know this feeling way too well, but this isn't the end of the road for me. As I rehab my injury, my role will transition to helping coach and support my teammates. I will be at Halas Hall and do everything I can to help our team reach its goals."

Since being selected by the Bears in the second round of the 2003 draft out of Louisiana Lafayette, Tillman has become one of the best defensive players in franchise history. He owns Bears career records with nine defensive touchdowns, eight interception return TDs and 675 interception return yards.

"On a personal level, I'm really disappointed for Charles and what's come about here," coach Marc Trestman said Monday night on the Bears Coaches Show on WBBM Newsradio 780 and 105.9 FM.

"He was on his way to a Pro Bowl season. The first two weeks, he played very, very well. He was very physical. He was around the ball. He was in piles. He was creating a sense of urgency for our football team each and every play. He really had worked so had this offseason to come back and get himself ready to go.

"We'll feel it on our football team, no doubt. The next guy's got to step up and we've got to play. But he's such an integral part of our football team in the locker room and on the field."

Tillman's 36 career interceptions are the most by a cornerback in Bears history and third most overall behind safeties Gary Fencik (38) and Richie Petitbon (37).

Since entering the NFL, Tillman is the league's only player with at least 30 interceptions and 30 forced fumbles. During that span the two-time Pro Bowler ranks second in forced fumbles, tied for fifth in interceptions and interception return yards, sixth in passes defensed and tied for second in interception return TDs.

Off the field, Tillman's contributions are equally impressive. He was selected the 2013 Walter Payton NFL Man of the Year primarily for his work with the Cornerstone Foundation. Since its inception in 2005, Tillman's efforts have impacted over one million Chicago-area children and raised more than $1 million.