CHICAGO - Charles Tillman's outstanding play on the football field is finally earning him the recognition he deserves. But the prestigious honor the Bears cornerback received Thursday night had nothing to do with forcing fumbles or returning interceptions for touchdowns.
Tillman and his wife Jackie were presented with an award at the Ann & Robert H. Lurie Children's Hospital of Chicago's fourth annual Champions for Children's benefit dinner at the Hilton Chicago in recognition of their commitment to the health and well-being of the more than 148,000 patients treated at Lurie Children's each year.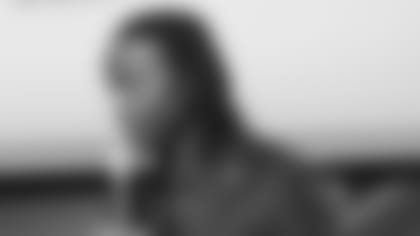 Cornerback Charles Tillman accepts his award Thursday night at the Hilton Chicago. (Photo by Jan Terry, Lurie Children's)
Through his Cornerstone Foundation, Tillman has provided chronically and critically ill children at the hospital with two "Charles' Lockers" filled with iPads, notebook computers, DVD players, portable PlayStation game systems and other electronic handheld games to pass the time during recovery and treatment.

Tillman has also hosted an annual "TendHER Heart" Luncheon for 150 mothers of ill children and provided assistance to economically at-risk families through the "Tiana Fund."

The Tiana Fund is named for Tillman's four-year-old daughter, who was diagnosed with dilated cardiomyopathy in 2008 when she was three months old. Tiana received a heart transplant at Children's Memorial Hospital in Chicago that she needed to save her life and is now healthy.

At Thursday night's event, Tillman urged those in attendance to do their part as well.

"I really appreciate this honor, but I'm no different than any of you coming here supporting the Lurie Children's event," he said. "The only thing I ask is to support all the foundations in your local community. They do great things."

The Bears were well represented at the Champions for Children's fundraiser. Attendees included team president and CEO Ted Phillips, chairman George H. McCaskey, right tackle Gabe Carimi and more than a dozen former Bears players.

Bears radio play-by-play announcer Jeff Joniak served as Master of Ceremonies.

Like everyone else, the team's alumni have taken notice of what Tillman has accomplished on the field this season. The 10-year veteran was named NFC defensive player of the month for October after returning interceptions for touchdowns in back-to-back road wins in Dallas and Jacksonville, setting the Bears' all-time record with eight defensive TDs. He also held Lions Pro Bowl receiver Calvin Johnson to three receptions for a season-low 34 yards.

Tillman then forced a career-high four fumbles in last Sunday's 51-20 rout of the Titans, increasing his season total to seven and giving him 36 forced fumbles in his career, the most among NFL defensive backs since he entered the league in 2003.

"He has become a perfectionist at stripping the ball, and I have to give him props," said former receiver Dennis McKinnon, a member of the famed 1985 Super Bowl XX championship team. "He'll tell you that he wasn't the player he is today years ago. He is playing with such confidence and it's wonderful watching him play."

"It's just a tremendous asset to the defense," added former linebacker Otis Wilson, also a key member of the '85 Bears. "One great thing about it is when you have success and you're playing well, it's contagious."