Since being named the 2013 Walter Payton NFL Man of the Year thanks mostly to his charitable work with the Cornerstone Foundation, Charles Tillman has remained active in the community.
Over the past week, the Bears cornerback hosted a bowling fundraiser and donated a locker stocked with electronic equipment to the teen lounge in a local hospital.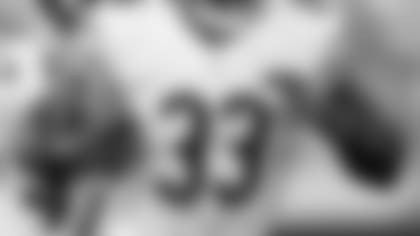 Charles Tillman
The Charles Tillman Celebrity Pro BOWLer Tournament was held at Kings Lanes, Lounge & Sports last Thursday night in Rosemont. First held in 2012, the event has raised more than $320,000 in support of the Cornerstone Foundation, which provides opportunities and resources to underprivileged children and their families.
As in past years, Tillman recruited friends and teammates for an evening of bowling with lane sponsors to benefit children in the Chicago area and beyond. Bears players who participated included Tim Jennings, Lamarr Houston, Shea McClellin, Kelvin Hayden and Sherrick McManis.
"Our partnership with Kings is one of the things that makes the Tillman Cornerstone Foundation so strong," Tillman said. "Those of us in the public eye are given tremendous opportunities to make a difference to the larger community. The event is fun for everyone involved and it's great to have people coming together to benefit special children."
Last than 24 hours after the bowling fundraiser, Tillman was at Advocate Children's Hospital in Park Ridge last Friday to launch his eighth "Charles' Locker." The lockers enrich the lives of patients by providing them and their families access to notebook computers, handheld game systems, DVD players and DVDs to help them pass time during treatment and recovery.
The locker at Advocate Children's Hospital is sponsored by Fifth Third Bank and is expected to touch the lives of nearly 20,000 patients and their families each year.
Since Tillman created the Cornerstone Foundation in 2005, his efforts have raised more than $1 million and impacted the lives of over one million Chicago-area children.