Bears cornerback Charles Tillman, who has been bothered by a knee injury since Week 2, practiced without restrictions Saturday and is expected to start Monday night's game in Green Bay.
"He practiced the full practice today, so he's all set and ready to go," said coach Marc Trestman.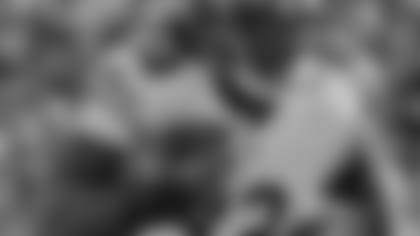 Charles Tillman returns an interception Oct. 20 in a 45-41 loss to the Redskins.
Tillman, who is listed as probable on the injury report, no doubt will give a struggling defense a boost. The Bears have permitted at least 40 points in back-to-back road games for the first time since 1969 and are on pace to set a team record for most points allowed in a season.
"It's definitely frustrating because this is something I've never been part of, giving up that many points," Tillman said Saturday after practice. "It's foreign to me, so this is new for me and I definitely don't like it. It leaves a sour taste in your mouth.
"The bye week came at a perfect time because it gave our defense and our coaches enough time to sit back and evaluate us. It's not about the opponent. It's about us; what can we do, what can I do to make myself better to help this team?"
Tillman doesn't mind that few people seem to be giving the Bears a chance to beat the Packers, who have won four straight games and their last 10 contests at Lambeau Field.
"Everybody's entitled to their own opinion, so it's fine," Tillman said. "I'm OK with it. We obviously must have given them reason to think that, so until we start to make some plays and win games, then maybe we turn some heads. But it doesn't bother me. I'm OK with what they say."
In other injury news, receiver Joe Anderson (abdomen) is questionable, while safety Major Wright (knee) and linebacker Blake Costanzo (knee) are probable. Quarterback Jay Cutler (groin) and linebacker Lance Briggs (shoulder) have been ruled out of the game.
Bears go Greene: After a solid week of practice, rookie fourth-round pick Khaseem Greene is expected to make his first NFL start Monday night in place of Briggs at weakside linebacker.
"I think we saw an ascending," Trestman said. "It's not a speed thing or ability thing, just in his ability to assimilate the information, get better each and every day, and we did see that. His teammates saw that as well and I think that's exciting. This is his opportunity to step up and I know he's excited to go as well."
Do your job: Greene will start alongside fellow rookie Jon Bostic, who has replaced the injured D.J. Williams at middle linebacker. Despite their inexperience, the Bears don't expect veterans to try to overcompensate for their young teammates.
"I think that would go against what we're trying to get done, and that is for everybody to go out and do their jobs and not try to make up for experience in some other way that you don't do your job," Trestman said. "That's been a real focus for us; just lock in to do your job and trust that the young guys will do theirs as well. There would be a ripple effect if guys start feeling they have to do more."
History lesson: Right tackle Jordan Mills grew up in Louisiana and is in his first season with the Bears, but he still knows plenty about his team's storied rivalry with the Packers.
"Going back to the '20s, George Halas and Vince Lombardi, they've been going at it for years," Mills said. "Dick Butkus, Ray Nitschke, going back to that famous play that Vince Lombardi used to draw on the board and everything like that. I'm a football junkie, so I watch all of that.
"It goes back to the one person that started the league, George Halas. It's a true inspiration and it's humbling just to be a part of this team, and to actually play and represent in his honor and his name and his organization is like no other.
"I'm always the person to sit home and watch NFL Network all the time, so just to sit there and catch up on the history of the NFL and just to know the reason why I'm here, the person that started the Bears also started the NFL and just to be playing for that person and his family and his organization, it's priceless."