After Bears coaches reviewed tape of Sunday's loss to the Vikings, inside linebacker John Timu was credited with a team-high nine tackles.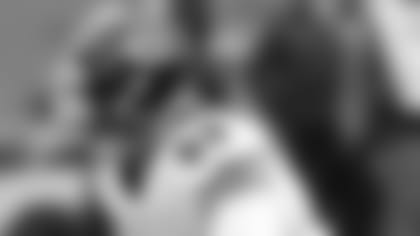 John Timu was credited with a team-high nine tackles against the Vikings in Week 15.


Not bad for an undrafted rookie not only making his first pro start, but playing defense for the first time in an NFL regular-season game.
"I saw a guy that's instinctive, much like I kind of thought he would be," said coach John Fox. "He's earned that opportunity. I thought he did a pretty good job."
A three-time captain at Washington, Timu played in the Bears' first four games this season on special teams. He then spent 10 weeks on the practice squad before being promoted to the active roster in advance of Sunday's contest in Minnesota.
"Guys earn kind of what happens," Fox said. "We saw enough in John. He showed some signs earlier in the year. He hadn't had an opportunity to play some time. I thought it was a good match-up for him."
Timu started in place of Christian Jones, who was inactive for the game. While the defense struggled to contain quarterback Teddy Bridgewater—who passed for four touchdowns and ran for a fifth—Timu helped limit Adrian Peterson to 63 yards on 18 carries, snapping the star running back's streak of five straight 100-yard games against the Bears.
"All-in-all we played the run pretty well in that game against a pretty good run team," Fox said. "It wasn't all negative. Like anything, it's never as bad as you think it is and it's never as good as you think it is when you look at the tape. There were some positive things and I think some things we can clean up that caused some problems."
Injury update: Alshon Jeffery is being treated for a hamstring injury that forced him to sit out part of the second half Sunday. The Bears' top receiver has been plagued by hamstring, calf, groin and shoulder injuries throughout the season, limiting him to nine games.
It's not yet known whether Jeffery will be able to play Sunday against the Buccaneers in Tampa, but the Bears have grown accustomed to lining up without him.
"We've had some practice," Fox said Monday. "I don't know if that's a good thing, but we'll evaluate him. He got treatment [Monday]. I'm sure he'll get treatment [Tuesday] and we'll evaluate him and see what his availability is Wednesday [for practice]."
Inside linebacker Shea McClellin experienced concussion symptoms following Sunday's loss to the Vikings and is now in the NFL's concussion protocol.
McClellin was credited with eight tackles in the Bears' 38-17 defeat. He ranks second on the team with 96 tackles this season despite missing three games with a knee injury.