BOURBONNAIS, Ill. — They say Father Time is undefeated, but Julius Peppers isn't about to concede anything. The Bears defensive end is 33 years old, but insists he feels much younger.
"I feel like I'm 25," Peppers said. "Age is just a number that gets put on players. It's real, but it's really in your heart and mind how you feel. I feel young in those places, and I think it's showing."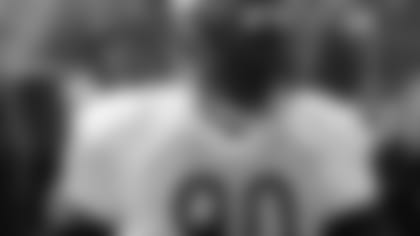 A 12-year NFL veteran, Julius Peppers feels much younger than his actual age.
Peppers certainly doesn't seem to be slowing down. He has been selected to the Pro Bowl in each of his three seasons with the Bears and was voted the 54th best player in the NFL by his peers.
With 11 sacks in 2011 and 11.5 in 2012, Peppers became the first Bears player with at least 11 sacks in consecutive seasons since Hall of Fame defensive end Richard Dent in 1986-87.
Peppers is one of four starters on the Bears defense over the age of 30, joining linebackers Lance Briggs (32) and D.J. Williams (31) and cornerback Charles Tillman (32).
"That's the thing in this league," Peppers said. "When you reach 30, that's the number that everybody wants to put on you and say you're getting old. But these guys come out and work hard.
"We all know what we're doing. I think we've got the right mix of older guys and younger guys. I don't think it's a problem as far as age on this team."
Since being selected by the Carolina Panthers with the second pick in the 2002 draft, Peppers has 111.5 sacks, the second most in the NFL behind Jared Allen's 117. But even though he already has a Hall of Fame resume, the 6-7, 287-pounder is convinced he can still improve.
"Every day it's a process," Peppers said. "You never get to the point where you feel like you're the best or you can't get any better. Every day you come out and try to put the work in and try to get better than you were the day before. It's a cliche but it's really real. That's just the maturation of a player. You come out and find something to get better on and do it until you can't do it anymore."
An accomplished player with that type of attitude provides an ideal example for his teammates.
"He's a role model for the younger guys, for guys like me and for the veterans who just go out there and see him working," said defensive tackle Henry Melton. "He doesn't take a day off unless the coach makes him take a day off."
First-year Bears coach Marc Trestman has an equally high opinion of Peppers.
"It's so impressive it's hard to describe," Trestman said. "The way he carries himself around the locker room through the meetings and certainly on the field, and watching him since April, it's just impressive, the consistent high level of effort. He's all over the field. He's first in line. We all want to grow up and be like Julius. Quite frankly, that's the kind of a man I think of him as."
As he enters his 12th NFL season, Peppers remains driven to win his first championship. He reached the Super Bowl in 2003 in his second season with the Panthers, but they lost to the Patriots.
"I think about it all the time," Peppers said. "I saw the Blackhawks do it and it's a great time for this city. We're going to try. We're going to put the work in. We're going to try and give ourselves a chance, and we're going to try and bring it home."