Projected to be the Bears' top three wide receivers this season, Alshon Jeffery, Eddie Royal and Kevin White are practicing together this week for the first time since June.
"You have to think back to OTAs to see them all out together," said quarterback Jay Cutler. "It's nice to see. They're hard workers. I know they've wanted to be out here together for a long time."
Jeffery (7), Royal (6) and White (0) have played in only 13 of a possible combined 36 games this season and only Jeffery is a lock to suit up Sunday when the Bears host the Redskins.
The good news is that both Royal and White are making progress in their recovery from injuries. Royal practiced on a limited basis Thursday for the second straight day and hopes to return Sunday against Washington after missing the last five games with a knee injury.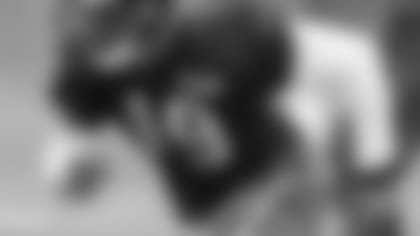 Eddie Royal has played in six of the 12 games so far this season.


"It would be huge for us," Cutler said. "He's a smart player and knows the offense. Some more quickness, some catch-and-run, some separation between the numbers, that will really help us out."
White has practiced this week for the first time since sustaining a stress fracture in his leg in June. He suffered a setback while doing some light running in training camp and had to undergo surgery.
"He's out there doing as much as the trainers let him do," said offensive coordinator Adam Gase. "We're just going to keep moving him along and whenever [coach John] Fox gives us the green light as far as being able to move forward with him, that's when we'll start doing what we need to do to get him involved."
White remains on the physically-unable-to-perform list. The Bears must decide whether to place the seventh overall pick in this year's draft on their 53-man roster or on season-ending injured reserve by this coming Tuesday.
Jeffery, meanwhile, missed the entire preseason with a calf injury, played in the season opener and then sat out the next four games with a hamstring injury. He returned to record three straight 100-yard games but later missed another contest with groin and shoulder injuries.
Jeffery, who has caught 47 passes for 690 yards and two touchdowns this season, remains an intriguing option in the passing game, especially down the field against man-to-man coverage.
"He's a tough cover for those guys," Cutler said. "He's so long. He attacks the ball. He gets in and out of his cuts well enough that he puts corners at a disadvantage. He's not as quick as Eddie, probably not as quick as [White], but he's quick enough that you can run a lot of different routes with him. You can cross the field, you can throw it up. Any time we do have Al one-on-one, it's going to take a lot to get me off him."
While injuries have forced the Bears to shuffle their receivers on a weekly basis, Cutler has still been able to excel in the passing game. His 90.1 passer rating through 12 games would be the highest of his career, eclipsing the 89.2 he posted in 2013.
"Availability is key in this league and a lot of the guys have been up and down," Cutler said. "But I think it goes back to coaching. [Receivers coach] Mike Groh has done an excellent job with those guys and making sure the next guy up is prepared, and I think Adam and the rest of the guys have done a fabulous job of being able to use their talents and what their strengths are. They've done a really good job of being where they're supposed to be. I think it's a credit to how hard they work, how much they study, and Mike making sure that they are prepared each and every week."
Backup receivers who have stepped up this season include Marquess Wilson, Joshua Bellamy, Marc Mariani and Cameron Meredith, though Wilson (ankle) now is also hurt as well.
"I think we've handled it pretty good," Gase said. "The hardest thing for us is just practice, trying to get that rhythm, more for down-the-field throws. You saw in this last game [against the 49ers] we're close to hooking up on a lot of these, but we just don't quite have the timing we need and that comes through guys being in and out and just not being able to develop that kind of timing.