After aggressively trading up in the first round to grab the player he coveted the last two years, Ryan Pace made another bold move in the second round Friday night.
The Bears general manager dealt a fourth-round pick and a 2019 second-round selection to the Patriots to move up to take Memphis receiver Anthony Miller at No. 51.
"We were surprised that he was there," Pace said. "As the draft was unfolding, we talked about it and we said, 'Hey, giving up a future second and one of our fours, we felt he was worthy of that.' We're excited about this player."
Miller was ultra-productive at Memphis, setting school records with 95 receptions, 1,434 yards and 14 touchdowns in 2016 and then eclipsing all three marks with 96 catches, 1,462 yards and 18 TDs last season.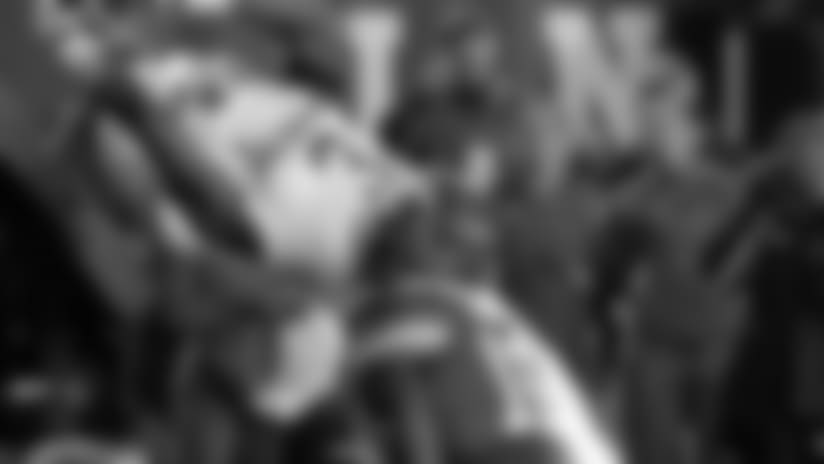 Anthony Miller makes a diving touchdown catch for Memphis.


"He's competitive," Pace said. "He's tough. His route quickness, his hands, his work ethic, his mentality—all those things are infectious qualities he possesses. He's a fun guy to watch on tape because of how he plays."
Miller also is a fun guy to talk to. The 5-11, 201-pounder certainly doesn't lack confidence, telling Chicago reporters on a conference call Friday night that he's a receiver that does it all and that someday players will say, 'Oh, you play like Anthony Miller' because I believe I'm a one-of-a-kind type of guy."
"I think that's important for any position, especially for that position," Pace said. "You know his story. He walked on, highly successful player at Memphis. That confidence, we like that. [Coach] Matt [Nagy] and I were just talking about that swag and that energy that he plays with. Those are infectious things.
"He's a guy that's 100 miles an hour every single snap. That effort. It's just fun to watch, especially at that position. How hard he plays, not just in the passing game but also blocking and run-after-catch, all those things are really good with him."
Pace sees Miller as a receiver who can play both outside and in the slot.
"He's got good route savvy, good route quickness," Pace said. "He just knows how to set things up. He has really strong hands. He's got 10-inch hands, so he can really pluck the ball. He's a versatile player in this offense that we can play outside or in the slot."